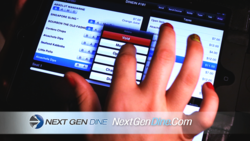 Las Vegas, NV (PRWEB) February 23, 2013
2013 has already proven to be an exciting year for Prelag Partners LLC with the release of version 2.0 of its flagship product Next Gen Dine. After months of preparation, beta testing, and long hours of development, Next Gen Dine will officially be unveiled to a mass audience at the 2013 Nightclub & Bar Convention and Trade Show on its home turf in Las Vegas, NV. Convention participants will be able to see full demonstrations of all the unique features of Next Gen Dine and touch the product themselves with the live demo iPads. The exhibit will contain a complete Next Gen Dine setup, bar tending functions, receipt printers, payment terminals, security system integration, and customer interaction systems. Also, for the first time ever, the public will be able to see Next Gen Dine's massive social media interactive kiosk.
Next Gen Dine, the Future of Restaurant Dining, is the next generation of mobile restaurant point of sale software giving restaurant owners the ability to have a mobile, full featured point of sale system for a fraction of the cost of a traditional point of sale. The software is cloud-based, meaning that point of sale functions happen in real time. Reports, running totals, and daily operations can be monitored as they occur from any internet connection. The point of sale terminal client runs on the iPad giving servers the ability to take orders at the table, thus, drastically reducing foot traffic and bottlenecks in the restaurant. Next Gen Dine also integrates with iPad credit card readers giving servers the ability to take credit card payments at the table.
Next Gen Dine has some key features that are specific to the Bar and Nightclub Industry. The most important of these features is PhotoSnap. PhotoSnap allows a bar or nightclub owner to set a credit card charge payment threshold. If a payment exceeds this amount the software will require the server to take a picture of the customer's credit card, identification, and/or person. The system will then tag the photo with the GPS coordinates, time-stamp, and payment information at the exact moment the payment is made. This information is then securely stored in the cloud for later retrieval. Having this information available gives a merchant bullet-proof protection against charge-backs. This amazing feature, among others, will all be on display with Next Gen Dine at the Prelag Partners LLC booth at the 2013 Nightclub & Bar Convention and Trade Show.