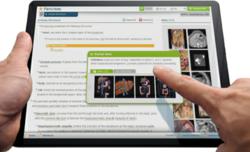 AnatomyOne synthesizes all the elements required for proficiency into one online learning experience.
Salt Lake City, UT (PRWEB) February 23, 2013
Amirsys AnatomyOne today presented ground-breaking new solutions for learning and teaching anatomy at the Innovations in Medical Education (IME) conference in Los Angeles, California. AnatomyOne is the first online anatomy learning environment to give educators all the resources they need to create a custom learning path for their students.
Medical school anatomy is a challenging course, requiring students to internalize more new vocabulary than the average first-year language student. While an abundance of popular anatomy resources are available for medical students, most do not adequately meet the needs of today's students and faculty. Traditional anatomy products have not incorporated technology to improve the learning process.
"Medical students have less time dedicated to anatomy than previous generations and they need more efficient tools to help them grasp crucial concepts," says Dr. David Morton, Course Director for gross anatomy at the University of Utah School of Medicine. "AnatomyOne synthesizes all the elements required for proficiency into one online learning experience."
At the IME conference, medical educators will see firsthand how AnatomyOne combines all the resources students need to master gross anatomy into a single, integrated, and customized learning experience. AnatomyOne helps each student focus on the material they most need to learn, while helping them learn more efficiently and effectively than they can with text books.
For faculty, AnatomyOne provides a rich library of resources, along with all the tools needed to create custom course outlines, atlases, and lecture slides. To build custom learning paths for students, faculty can select from AnatomyOne's over 700 teaching modules which cover regional, systemic, and clinical anatomy perspectives; introductions to embryology; and foundations in histology. Faculty can also utilize a variety of images, including thousands of illustrations, cadaver photos, radiology images, and histology images. With AnatomyOne, faculty can export images to PowerPoint slides with customizable labels.
For more information about AnatomyOne, please visit http://www.anatomyone.com or http://www.facebook.anatomyone.com.
ABOUT AMIRSYS
Amirsys, Inc. is a leading provider of innovative healthcare information solutions in radiology, pathology, and anatomy. Our unique combination of proprietary technology and image-intensive, evidence-based content provide online problem-solving solutions and reference books to thousands of physicians and health professionals worldwide.