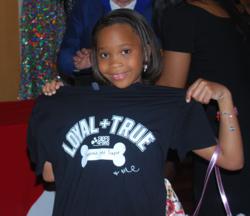 "Steps4Paws" Love that you are saving lives, one doggy at a time!"
- Quvenzhane Wallis
Beverly Hills, CA (PRWEB) February 23, 2013
Oscar Nominees and Celebrity guests all pitched in to support the Steps4Paws rescue movement to save dogs by signing their own pet's name on promotional tees from the "Loyal And True" line that honors and commemorates a favorite pet. Each Oscar Nominee also sported their "My Dog Rescued Me" Steps4Paws shirt to help raise awareness for the cause.
Steps4Paws supporters included nominees and celebrities - Oscars Best Actress Nominee Quvenzhane Wallis from "Beasts of the Southern Wild", Matt Nolan and Cas Anvar from "Argo", Marcia Gay Harden from "Into the Wild" and "Trophy Wife", Eric Roberts from "The Dark Night", as well as the producers of Oscar Nominated for Best Film "Argo".
Additional Stars that stopped by the L'Ermitage Hotel Oscars event were Chelsie Hightower from "Dancing With The Stars", Lainie Kazan from "My Big Fat Greek Wedding", Carolyn Hennesy from "Cougar Town" and "True Blood", Marilu Henner from "Taxi" William Shatner from "Star Trek", Penny Marshal from "Laverne and Shirley", Charlene Tilton "Dallas". and actor-musician Leon Robinson.
Steps4Paws collection will launch at retail stores nationwide in March 2013. The fashion forward collection features innovative designs that are sure to spark attention and raise awareness for the cause. Steps4Paws donates partial proceeds from the sales of these shirts to national and local rescue organizations including Best Friends and The Gentle Barn. You can be fashionable and save lives at the same time – what can be better!
"Here at Steps4Paws we believe that every dog deserves a loving home with compassion and respect. That is why we have made it our purpose to help save lives, one dog at a time" said founder Vered Nisim
For more information please visit http://www.steps4paws.com