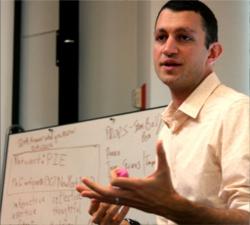 I was labeled with dyslexia and ADHD in 5th grade, defined by what I couldn't do. Today, I lead Eye to Eye, the national grass roots mentoring movement that's determined to show anyone with LD / ADHD what they can do.
Westport, CT (PRWEB) February 25, 2013
Smart Kids with Learning Disabilities, Inc., the Westport-based nonprofit organization, and Building Bridges, a program of the Mamaroneck/Larchmont School District in Westchester County are pleased to announce an evening program on "Thinking Differently About Learning" featuring David Flink. The free program will be held on Wednesday March 6th from 7:00 to 8:30pm at Mamaroneck High School's McLain auditorium, 1000 Boston Post Road, Mamaroneck. This program is designed for parents and children grades 4 and up.
Growing up with dyslexia and ADHD, David Flink did not believe he would ever succeed in school -- much less make it to college. However, not only did he graduate from Brown University, he went on to earn a masters degree from Columbia University and to co-found Eye to Eye, the national mentoring program for children with learning disabilities.
David Flink will tell his personal story helping children understand that they are not alone and that they can reach the goals they set for themselves. The program will help all students gain knowledge and understanding of people with different abilities, through providing a first-person experience that will help develop empathy, and reinforce the idea that all people, no matter what their differences, have the same social needs and feelings. Children in the 4th grade and older, are welcome to attend and to be inspired as David tells his story.
David Flink is co-founder and executive director of Eye to Eye, the national mentoring movement. He has helped thousands of children with LD and ADHD develop the confidence that they, too, can succeed. He speaks at colleges and universities across the country, and has delivered keynote addresses at national and international conferences. He holds a master's degree in disability studies in education from Columbia University and bachelor's degrees with honors in education and psychology from Brown University. In 2010, he was awarded a Prime Mover's Fellowship sponsored by the Hunt Alternative's Fund, which supports emerging and established social movement leaders who are developing innovative and inclusive approaches to social change at the local, national, and global levels. In 2011, he was named one of the New Leader's Council "40 Under 40." He is currently completing a book titled "Thinking Differently: Reframing Learning for a New Generation."
To reserve a place for this free program on Wednesday, March 6th, in Mamaroneck High School's McLain Auditorium at 1000 Boston Post Road, Mamaroneck, NY from 7:00 pm to 8:30 pm, please register at http://www.eventbrite.com/org/2945904989.
About Smart Kids with Learning Disabilities, Inc.
Smart Kids with Learning Disabilities, Inc. is a Westport-based nonprofit organization dedicated to empowering the parents of children with learning disabilities and ADHD via its educational programs, award-winning website, and free e-newsletter available at http://www.SmartKidswithLD.org. Henry Winkler, Golden Globe award-winning actor, director and author, serves as the organization's Honorary Chairman.
About Building Bridges
Building Bridges: Understanding People with Different Abilities is a program in the Mamaroneck/Larchmont School Districts sponsored by the school-wide PTA and District. Each of the 6 schools in the district presents a program that best fits the needs of its students.
The programs are designed to develop awareness, sensitivity and respect for all individuals, including the disabled, across all the schools. It includes specialized resources at the school libraries, programs to increase community awareness and a collection of instructional resources for the Teacher Institute.