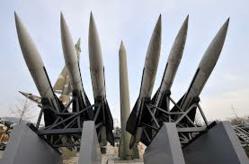 Washington DC (PRWEB) February 23, 2013
Scud missiles fired by the Assad regime into the city of Aleppo have flattened dozens of houses and killed at least 12 people, opposition sources told the New York Times. This latest attack comes on the heels of a previous attack with scud missiles on Aleppo on Feb 19th that killed over 20 people.
SEE: Scud Missile Attack Reported in Aleppo http://www.nytimes.com/2013/02/23/world/middleeast/scud-missile-aleppo.html?pagewanted=all
SEE: Syria Scud-Type Missile Said to Kill 20 in Aleppo http://www.reuters.com/article/2013/02/19/us-syria-crisis-idUSBRE91I0GK20130219
SEO continues to demand the international community take meaningful and swift action to protect the people of Syria from these heinous and deadly attacks. "The insanity of the Assad regime has reached new disturbing proportions as they drop missiles capable of causing devastation on a large scale on heavily populated civilian areas" said SEO Chairman Dr. Mazen Hasan. "Never have we seen Scud missiles used by a government to kill its own citizens. Assad is a menace, and is terrorizing the Syrian people on a daily basis. The lack of outrcry by the international community against these attacks is unconscionable, and today is not the first time we hear of scud missile being used in Syria. This is a war crime that necessitates immediate measures to protect the Syrian people from a dictator gone mad," said Hasan.