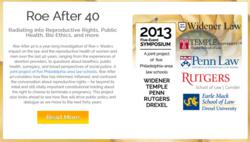 Experts on the panel also discuss whether the U.S. Supreme Court will follow the same legal approach used in Roe in this year's same sex marriage cases, overturning nearly 40 state laws in favor of a uniform, national standard
Philadelphia, PA (PRWEB) February 25, 2013
It is the most recognizable U.S. Supreme Court decision of our generation. Forty years later, what is the legacy and future impact of the landmark abortion case Roe v. Wade? Since 1973, Roe has been challenged repeatedly, but despite all odds the core ruling stands. 
Online now and tonight at 7:00 p.m. on the Philadelphia CNN-News affiliate WFMZ-TV, The American Law Journal presents "40 Years On: Roe v. Wade, the History & Future of Reproductive Rights." Host Christopher Naughton welcomes Prof. John G. Culhane of Widener University School of Law,  Prof. Kimberly Mutcherson of Rutgers University School of Law and Howard J. Bashman, Philadelphia area appellate trial attorney. Editor-in-Chief of the CATO Supreme Court Review, Ilya Shapiro joins the discussion from the CNN studios in Washington, D.C. 
The Legal Intelligencer newspaper's senior staff writer Gina Passarella and Drexel University Earle Mack School of Law's Prof. David S. Cohen comment on Roe's past and future in an opening feature report.
Panel experts also discuss whether the U.S. Supreme Court will follow the same legal approach used in Roe in this year's same sex marriage cases, overturning nearly 40 state laws in favor of a uniform, national standard.
The program is inspired by "Roe After 40," a six-part symposium conducted throughout 2013 by the law schools of Temple University, University of Pennsylvania, Widener University, Rutgers Camden and Drexel University. It is the brainchild of Prof. Culhane and discusses Roe's impact on public health, abortion, reproductive rights, and more. The next event in the series takes place Tuesday, February 26 at noon at Temple University Beasley School of Law.  Visit http://blogs.law.widener.edu/roeafter40/ for details.
The American Law Journal program can be viewed online now as well as televised Monday, February 25 at 7:00 p.m., replaying Sunday, March 3 at 5:30 p.m. on the Philadelphia CNN-News affiliate WFMZ-TV.
WFMZ-TV cable and satellite systems channels can be found at http://bit.ly/ALJchannels. FiOS system subscribers tune to channel 15.
Next week: "Divorce & Custody- Dealing with the Difficult 'Ex.'"
Case cited: Roe v. Wade, 410 U.S. 113 (1973)
Same sex marriage cases scheduled for the U.S. Supreme Court: Windsor v. United States, Perry v. Hollingsworth
About The American Law Journal
The American Law Journal is the weekly talk-feature program airing Monday nights at 7:00 p.m. and Sundays at 5:30pm on the CNN News affiliate in Philadelphia, WFMZ-TV to Pennsylvania, New Jersey, Delaware and online.  On the air over twenty years, the program discusses consumer, business and Constitutional issues with attorneys, law professors, judges, elected officials and others to shed light on current legal news and how the system impacts the everyday lives of citizens.
Programs are live or taped in-studio and on location in and around Philadelphia.
For information, schedules, archived programs and more, go to http://www.LawJournalTV.com.