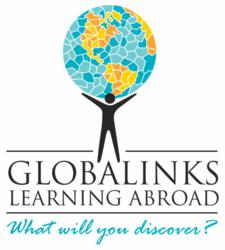 Our Chile internships tie together our customized internships and global career development guidance with an enriching discovery experience in one of Latin America's most thriving countries. - Cynthia Banks, executive director and CEO
Denver, Colorado (PRWEB) February 25, 2013
GlobaLinks Learning Abroad, a leading provider of study abroad programs across the globe promoting academic, cultural, personal, professional, and social discovery, today announced its new internship programs in Chile, which provide Global Career-Building Experience in a Spanish-speaking destination and personal brand development so students can differentiate themselves and build their careers to succeed in a global economy. The new Latin America addition joins an already thriving internship program in Australia, New Zealand, Spain and China.
"Our Chile internships tie together our customized internships and global career development guidance with an enriching discovery experience in one of Latin America's most thriving countries," said Cynthia Banks, executive director and CEO of GlobaLinks Learning Abroad. "This powerful combination elevates our internship offerings in just about every field with personal brand tools so our participants gain an edge in a highly competitive job market."
With partner It's a Global World serving as the Santiago-based support office, GlobaLinks Learning Abroad delivers the same high quality internships and support services in Chile that it is known for in other destinations. Offerings include 6-week, 10-week and custom date internship programs. Housing and onsite staff are always a part of the programs and students are assured of getting more than just a placement.
"Our partnership with It's a Global World ensures that each student has an individualized experience and service through their program, including pre-departure, in-country, and re-entry," said Barbara M. West, assistant director, internship programs. "The staff at It's a Global World have more than 9 years experience placing students in academic-based, career-building internships in Latin America."
In addition, the Chile internships program goes beyond internship placement to include:

High-Quality/Customized Placements in English or Spanish
In-Country Orientation
Global Personal Brand Toolbox - including Business Cards
Guaranteed Housing
Academic Credit Option
24/7 Emergency Support
Cell phone
On-Line Career Counseling Resources through Career Spots
Optional Spanish Language Lessons
More information on the GlobaLinks Learning Abroad internship programs in Chile, including example
placements, deadlines, and program fees, is available online at http://www.gointernabroad.com/chile.
About GlobaLinks Learning Abroad:
GlobaLinks Learning Abroad is a leading provider of education abroad and internship programs for college-level students in destinations across the globe. Students from more than 800 universities and colleges across North America choose to study and intern with GlobaLinks Learning Abroad each year in destinations in the Pacific Region (Australia, New Zealand, and Fiji), in Asia (Hong Kong, Japan, Malaysia, Singapore, South Korea and Thailand), Europe (Czech Republic, England, France, Germany, Greece, Scotland, Spain, Wales, Ireland, Italy and the Netherlands) and Latin America (Chile). Since it was founded in 1990, GlobaLinks Learning Abroad has sent more than 26,000 students on educational programs worldwide. For more information, visit http://www.GlobaLinksAbroad.org.