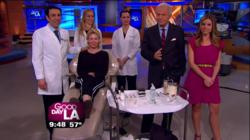 Los Angeles, CA (PRWEB) February 24, 2013
According to a February 5, 2013 USA Today report, a study conducted by International Society of Aesthetic Plastic Surgeons lists the United States as the number one country for plastic surgery in terms of total procedures. Breast augmentation is the number one plastic surgery procedure in the U.S. and liposuction number one worldwide. (Go to: goo.gl/shSGs)
Countries such as South Korea, Italy and Greece are quickly closing the gap, but still have much ground to cover in order to catch up to the United States. These countries have higher rates of plastic surgery by population; more than 10 procedures were performed for every 1,000 people.
"It will be interesting to see how these numbers change over the next few years," says Dr. Ourian, Medical Director of Epione Beverly Hills. "I won't be surprised, given the ongoing economic and demographic changes, if the number of treatments rise significantly in China, Brazil, and India."
The study indicates that United States had the highest number of plastic surgeons with 5,950, followed by Brazil with 5,024 and China with 2000. Perhaps surprisingly, the U.S. didn't even rank in the top three for nose jobs performed. That list was topped by China, Japan and Brazil.
The US was the undisputed leader in plastic surgery based on the number of cosmetic treatments performed. Out of a staggering 8.3 million non-surgical procedures and 6.3 million invasive treatments, 3.1 million were performed in the U.S., accounting for roughly 21% of the world total.
"We specialize in minimally invasive aesthetic treatments," says Dr. Ourian, "so I'm not surprised by the numbers. I expect going forward that the numbers overall will rise and so will the percentage of non-invasive treatments."
Dr. Ourian has been a pioneer in laser technology and non-invasive aesthetic procedures including Restylane, Botox, Juvéderm, Radiesse and Sculptra. These treatments are used for the correction or reversal of a variety of conditions such as acne, acne scars, skin discoloration, wrinkles, stretch marks, varicose veins, cellulite, and others. More information about the top countries for plastic surgery can be found on Epione's website.