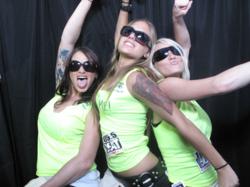 The Perfect Storm!
(PRWEB) February 25, 2013
Limelight Photobooths have been featured at a number of large events ranging from Robert Kiyosaki's Rich Dad Conference, Cirque du Soleil parties, weddings for celebrities, event photography for Kathy Ireland, Michael Isner, Michael Irving, and local concerts like Coolio and Tone Loc. But in almost five years of business the photos from this event are their most anticipated.
The Festival will be held at Harborside Convention Center March 2nd-4th and tickets can be purchased through http://www.inklifetour.com or at the gate. A tattoo conference may be intimidating for some people to attend but almost everyone is curious to see what goes on. From onsite tattoos, a band competition, a pole dancing competition, to full body "suspensions" there will be a laundry list of curiosities to take part in. So what if we could see the uninhibited side of these uninhibited attendees? What goes on behind closed doors of an event that is already beyond the mainstream? You can find out for yourself by attending this upcoming event and taking a look at the photo gallery that is available at http://www.limelightphotobooths.com afterwards.
According to the company's co-owner Mark Schoenfelt, "Photobooths seem to bring out the wild side in people. I really can't imagine what will happen when this is added to a tattoo convention… can you say the perfect storm?"
The Ink Life Tour includes 2012 tour dates in the following cities:

February 17 - 19 - Amarillo, TX at the Amarillo Civic Center
March 2 – 4 – Ft. Myers FL at the HarborSide Event Center
April 13 - 15 – Oklahoma City, OK at the Cox Convention Center
May 3 - 6 – Kansas City MO. At the Kansas City Convention Center
June 15 – 17 Lincoln NE at the Pershing Center
July 13 – 15 - El Paso, TX (Texas Tattoo Showdown) El Paso Coliseum
August 17 – 19 Longview TX at the Maud Cobb Convention Center
More Dates TBA
For more information, please call Ink Life Tour at (866) 935-1822 or e-mail at vendors(at)inklifetour(dot)com. For photobooth rental call 239-738-2803 or info(at)limelightphotobooths(dot)com