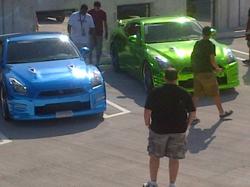 Miami, Florida (PRWEB) February 23, 2013
Into Action Treatment is a drug and alcohol treatment center that is known for being a little different. They are located in South Florida and focus on long term care and like their founder and CEO Andrey Rossin, they like to do things a little bit different. They have a strong focus on having fun in sobriety, so it is only natural that on a Saturday afternoon that they would visit Nurotag in Miami, Florida. Mind you that this is a treatment center, that instead of retreating from life, helps their clients get right back into life sans alcohol and drugs.
Nurotag is a very unique and "cutting-edge" car show experience. It consists of 4 different shows, where car owners compete for the best tag, or design on a car. The top 25 cars are selected from each of the 4 shows, taking place in Miami and Orlando Florida, Virginia, and Chicago, Illinois. After the top cars are chosen by the fans on Instagram, the top 100 cars show off at the nurutagallStars in Miami. nurotag the brand, revolves around its series of events with each one gathering the best competing show cars. The events are fused with spectators, models, music and an unparalleled social scene.
Last week, Into Action made a splash by having their very own transportation van painted by local Miami graffiti artist David Lavernia. Not that there was ever any thought of entering the van into Nurotag, however it showcases how much art plays a part at the treatment center. Clients at Into Action receive art therapy, which helps them express their addiction in ways where words do not suffice. "An addiction is a powerful thing, and over the years they rob many of our clients of a lot in their lives. We use art therapy to help them come to terms with their addictions, while at the same time helping them to develop a new way of expressing themselves in recovery," said Andrey Rossin, the founder at the drug rehab.
Regardless of whether or not the Into Action Treatment is the right place for everyone, it's obvious that they are taking a new approach to the average approach to addiction and recovery, where long term treatment odds in the industry are a dismal 5-10% recovery rate. It is inspiring to see them taking a different approach and getting their clients back into life.