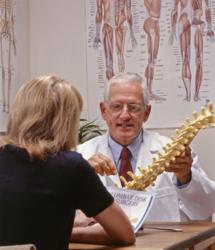 Live a Healthier & Happier Life!
Irvine, CA (PRWEB) February 28, 2013
Many patients in the South and with back pain in Orange County look to Dr. Shad to fulfill their chiropractic and sports injury needs. With the new company website, it is now easier for those patients to access information about their medical conditions, as well as understand what experience to expect at the SCSC. The website features a wide variety of critical information and media for patients and families. This includes an "About Us" section that outlines Dr. Shad's comprehensive medical background; primary "Procedures" performed, including spinal disc decompression, sciatica treatment and other procedures; as well as an FAQ and"Back Pain Glossary" to help educate patients further. There are also a series of video testimonials available for review, in which patients provide first-hand accounts of the successful recuperation and experience at SCSC.
Amongst the newest equipment that Dr. Shad utilizes at the spine care center includes the VAX-D, DRX900 and DRX900e for the specific treatment of spinal decompression and related back pain. Patients can learn about this and other advanced rehabilitation equipment on the site, as well as critical information about patient success rates, average treatment types and visitation numbers.
Patients can also make an appointment easily on the SCSC website by filling in their information in the "Make an Appointment" section and setting a time that works for them. An administrative team member will contact patents to confirm.
The South County Spine Center is led by Dr. Jeff Shad, who has been a practicing Doctor of Chiropractic and sports injury doctor in Irvine for 20 years. Dr. Shad's primary goal is to promote manual spinal decompression therapy by using holistic techniques to initiate the patient healing process.The SCSC specializes in advanced, long-lasting, non-surgical chiropractic and medical techniques that alleviate and eliminate chronic and traumatic back injuries. Based in Orange County, the SCSC services patients throughout greater Southern California.
Dr. Shad and the SCSC medical team are available for both mainstream national and regional online, print, radio and television interviews. Images and information about SCSC are available on: http://www.southcountyspinecare.com.