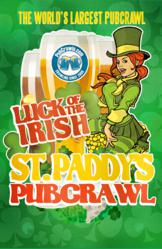 (PRWEB) February 25, 2013
Celebrations may be spontaneous at times, but the ones that are planned ahead of time are the most anticipated. Once March rolls around, all eyes are on St. Patrick's Day. It's the one day of the year when bars all over the country are filled from wall to wall with locals looking to drink and socialize, while being dressed in green from head to toe. There's really nothing else like it, which is why everyone looks forward to the holiday for months on end. Although there may be St. Patrick's Day events located in cities across America, PubCrawls.com produces the most sought after gathering that offer variety on a day that everyone looks forward to.
The PubCrawls.com St. Patrick's Day pub crawl is a national spectacle that takes place in over 50 cities across the nation. From its humble beginnings in New York City, word spread like wildfire and now the St. Patrick's Day pub crawl is considered the attraction in major cities like Miami Beach, Boston, Washington DC, and Hollywood, as well as secondary markets like Indianapolis, Savannah, and Denver.
Although the social aspect is extremely appealing, the drink specials are the real kicker. Specially priced drinks are hosted by the participating bars that are only accessible for pub crawl attendees. This year alone there are over 1000 participating watering holes nationally!
Known for producers the largest pub crawl in the world, PubCrawls.com looks to create fun, social, and safe drinking environments for the masses, so much so that they offer free tickets to be a part of the St. Patrick's Day pub crawl before March 4 at http://www.pubcrawls.com/comp! Variety is key in every entertainment experience. If PubCrawls.com is hosting a St. Patrick's Day pub crawl near you, there's no excuse to stay in one bar for the entirety of the holiday.