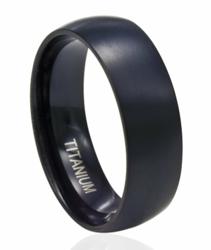 A contemporary black titanium ring is just the latest celebrity purchase made at fast growing online retailer JustMensRings.com.
Jensen Beach, FL (PRWEB) February 27, 2013
Internet jewelry store JustMensRings.com (JMR) continues its explosive growth in 2013 with unprecedented site traffic and further expansion into the men's wedding bands and fashion rings market. Not only are large numbers of new customers across the United States discovering JMR, but the company is also developing a strong celebrity following. Joining other recent celebrity purchases, Shane Andries of the Blue Man Group is the latest member of the entertainment community to be sporting a band from JMR, this time from the men's titanium rings collection.
Founded in 1987, the Blue Man Group is known for its high energy performances blending music, comedy and other visual elements, performed by actors wearing distinctive blue makeup. The Blue Man Group has since become a global phenomenon, with theatrical productions across the United States as well as an ongoing international tour. A member of the Blue Man Group's Orlando troupe, Mr. Andries also has acting credits in the Showtime series Brotherhood, and recently completed a short film that he himself produced, directed and wrote.
The modern black titanium ring purchased for Mr. Andries by his wife reflects the growing popularity of both titanium and black rings for men. Extremely lightweight yet durable with an appealing under $30 price tag, this ring can withstand the rigors of daily wear as well as energetic time spent on stage. With a timeless domed profile and matte finish, it is equally suitable as a fashion ring or alternative wedding band, combining both contemporary and classic elements for a wholly unique look. In addition to this particular style of ring, JMR offers men's titanium rings in a variety of designs, including a number of upscale titanium bands by U.S. based designer Benchmark.
The recent purchase made by Mr. Andries' wife is not the only celebrity related buy made in the past few months at JustMensRings.com. The prop department for the hotly anticipated 2014 remake of RoboCop selected a black stainless steel men's ring from JMR, perhaps to be worn in the movie by the character Alex Murphy/RoboCop. The popular daytime serial Days of Our Lives has already purchased several rings this year from the online retailer, including two stainless steel men's wedding bands and two tungsten rings.
"JustMensRings.com prides itself on everyday low prices and a large selection that ranges from affordable titanium rings to higher end diamond and platinum wedding bands," says JMR president and owner Roy Devine. "We're excited to get the attention from the entertainment industry, but the truth is that all of our customers are celebrities to us."
The black titanium ring purchased for Mr. Andries is currently available for purchase at JustMensRings.com. In addition to the titanium men's rings collection, JMR carries wedding bands and fashion rings in other contemporary materials like tungsten, stainless steel, ceramic and cobalt chrome, as well as more traditional precious metals like gold, platinum and palladium. JMR provides free shipping on all orders over $99, a lifetime guarantee on designer rings and a 30 day money back guarantee on all products.
About JustMensRings.com
At internet-only retailer JustMensRings.com, customers have come to expect the best possible prices on an extraordinary selection of men's wedding bands, fashion rings and jewelry for men, as well as the highest standards of service, selection and quality. The proof is in the numbers: JMR now offers the largest selection of men's fashion rings online, and is the only store in the United States that offers men's large size rings up to size 20. JMR leads the competition with an unparalleled assortment of unique and alternative men's wedding rings in a range of traditional and contemporary materials including gold, platinum, palladium, titanium, tungsten, silver, stainless steel, cobalt chrome and Seranite (or ceramic). Despite the recent rise in gold prices, Just Men's Rings continues to keep item pricing low and affordable, and shoppers would be hard-pressed to find better deals elsewhere. JMR is dedicated to providing its customers with a simple and secure online shopping experience, and offers a 30 day guarantee and free shipping on all orders over $99.
For more information on Just Men's Rings, please visit http://www.justmensrings.com.
For further information, please contact:
Roy & Judy Devine, Owners
800-797-9773
roy(at)justmensrings(dot)com