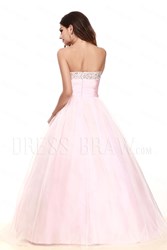 (PRWEB) February 24, 2013
Today, DressBraw.com, a favorite store of wedding dresses, updates its website by releasing Bridesmaid Dresses 2013 collection.
There are a total of 180 new items in this new collection, and they come in various styles and colors. Ladies can find many hot styles on the website, like A-line, sweetheart, knee-length, bridesmaid dresses, one-shoulder, empire, sweep train bridesmaid dresses, sexy V-neck bridesmaid dresses, and so on. DressBraw.com is rediscovering the essence of elite bridal and bridesmaids dresses with its focus on understated beauty and grace.
A source from DressBraw.com says, "All the dresses are available in 4 colors and from size 2 to 16. We use the best sources for all our products, and our strict quality check ensures that the products meet international standards."
DressBraw.com is known for its quality unique designs and affordable prices. The company has created a distinct brand of designer dresses that imaginatively keep up with the demands of modern weddings and other unique occasions. No matter elegant evening dresses or cheap prom dresses, DressBraw.com has something for their customers.
In addition, the updated website provides the latest wedding dress designs and relative fashion information for its loyal customers. The company aims to assist the ladies in keeping informed about the hottest designs, and helps people choose cost-effective products prior to shopping.
About DressBraw.com
DressBraw.com is one of the leading suppliers of wedding & special occasion dresses from China. DressBraw.com pays much attention for the hottest trends of wedding dresses, and all the dresses they are selling are made from top quality materials and go through rigorous inspection. The company has an elite team with professional skills and unlimited creativity in dressmaking.
For more information, please visit: http://www.dressbraw.com/?utm_source=content&utm_medium=news&utm_campaign=index