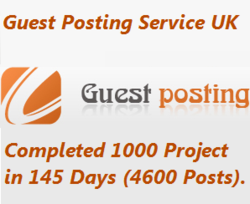 Dominate Google by guest posting service and get desired results..
UK (PRWEB) February 26, 2013
GuestPostingService.co.uk is an exclusive UK guest posting service provider, which shot to lime-light soon after its inception. And, within a matter of just 5 months, the firm has successfully executed its 1000th project, and is looking to serve many more customers in 2013.
Guest Posting has been a proven way of building authoritative back-links for any website, but ever since the wrath of Google Penguin update, website owners have started taking things seriously, and started looking out for specialised guest posting service providers. Although there is no dearth of SEO agencies in UK, only a handful of them offer specialised guest posting services, while others offer a host of link building packages, with guest posts being just a part of their services.
To assist the website owners looking out for specialised guest posting vendors, GuestPostingService.co.uk was incorporated, and the firm just took 145 days to complete 1000 projects successfully (about 4600 guest posts).
Take a look at the guest posting packages offered by the firm here.
Ever since the inception, the orders have flowed in, and folks at GuestPostingService.co.uk have been really busy, executing hundreds of orders every week. And, after delivering their 1000th project, the founder the company was extremely happy about their progress, and was quoted as saying – "I'm delighted to see how quickly the firm has grown over the past 5 months or so. We just hoped to execute 1000 projects in 12 months, but it's hard to believe that we have actually delivered our 1000th successful assignment just 145 days down the line. Looking at the pace at which, the orders are flowing in, I'm very confident that by end of 2013, we would cross even the 5000 mark!"
This UK-based Internet marketing firm focuses only on providing guest posting services, and it also works with SEO resellers, allowing resellers to sell their guest posting packages under their own label, and prices.
The company has got a team of dedicated in-house writers that execute all the projects without really outsourcing anything to third parties or freelance writers. They also have experienced SEO professionals and Internet marketers that reach out to the top blogs to get these guest posts published.
The firm invites all the website owners, bloggers, and webmasters to take a look at its guest posting packages, and give them a try to experience the difference that they can make, to the performance of their website.
About the Company
GuestPostingService.co.uk is a UK-based guest posting service provider that currently serves over 190 clients. The firm was started just a few months ago to deliver high quality guest posting services to website owners looking to recover from the wrath of Google Penguin updates.
Within just 145 days of operation, the firm has executed 1000 projects successfully, and is looking to cross the 5000 mark by the end of 2013. The company also works with SEO resellers, alongside the website owners, bloggers, and webmasters that manage networks of several websites.
To know more about their services, log on to their official website http://www.guestpostingservice.co.uk