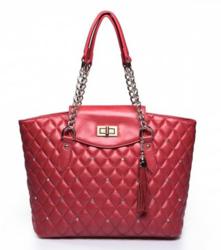 (PRWEB) February 24, 2013
Today, wholesalesion.com, a well reputed whole sale company, has added elegant new bags and purses to its product collection. The company is popular for supplying different varieties in wholesale handbags, wholesale purses, designer handbags and wholesale designer handbags for women. The availability at whole sale makes all the products highly affordable for the customers.
Wholesalesion.com claims to provide "Superb quality, exemplary service" and customer friendly whole sale prices for end consumers as well as for retailers. The product collection is stuffed with different colors, material, shape, sizes and textures of handbags; all picked very carefully keeping in mind the standards of quality.
With such a broad range of products and competitive prices, wholesalesion.com has bags and purses for everyone in every season for every event. In addition to the regular bags and purses, the company also deals in designer bags, clutches and purses. These too can be bought on whole sale prices. So, whether it is about buying a luxury branded satchel or some no-frills basic bags, wholesalesion.com has it all; a perfect range of bags to satisfy the changing needs of customers who want to look fashionable without spending a lot.
Wholesalesion.com is a China based whole sale company specializing in providing different varieties of handbags and wallets. Their products are selected from the best manufacturers in Hong Kong, China and other countries in Asia. The company sells directly to end consumer as well as to its partner stores which include well reputed websites like EBay. With their competitive whole sale prices and high quality products, wholesalesion.com is one of the best online stores for purchasing bags of all types.