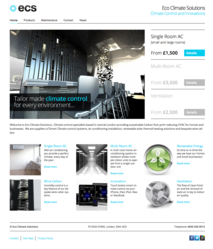 The ability to have total control is unparalleled, making the smart climate control system the choice for homeowners looking to lower energy bills and bring automated home control into their environment.
London, UK (PRWEB UK) 26 February 2013
Long gone are the Stone Age days of the hunter-gatherer man chopping wood to create a fire to keep warm. Industrialization and capitalism have facilitated global growth in both economy and technology, whereby at the touch of a button under floor heating can rapidly warm frozen toes or a cool breeze come from room vents to stop those beads of sweat rolling down on a hot summer's day.
As people evolve, so too has home air conditioning installation. However, the industry has been taking note of the detrimental energy impact the equipment can have on the earth. The energy efficient revolution in the heating, ventilation and air conditioning (HVAC) installation industry continues to grow at the rate of climate change concern. Now, more than ever, the availability to reduce one's carbon footprint using sustainable, innovative, smart climate control systems has become an attainable objective.
Eco Climate Solutions have become ever more conscious of the necessity to provide cleaner renewable energy alternatives for heating homes and businesses. With the green message of paramount importance, it is possible to provide custom tailor made integrated solutions for any environment; that also substantially reduce carbon production as a comparable to older inefficient systems. The company's core design strategy offers high-end finish while boasting technology from solar thermal heating systems that run on renewable energy air source heat pumps that can see up to 60% energy savings.
In this exciting time of development, leading the way in innovation and design, Eco Climate Solutions have introduced smart climate control home automation systems. Substantially increasing energy efficiency further, smart climate systems have long been seen as science fiction. However, it has become accessible through technology breakthroughs with extremely green practical applications, creating living environments with perfectionist detail while facilitating an Eco friendly philosophy.
The green activists among us will preach of the importance in turning down the traditional thermostats by one degree, smart climate takes this notion to the next level, regulating the temperature from room to room while incorporating settings that fluctuate through out the day, and controlling temperatures and energy use dependent on outdoor climate. Key components include room sensors that will switch off the system when rooms become vacant or automatically change to an energy saving setting as a room gets near the selected stat temperature.
Additional temperature and humidity control sensors can be linked to ventilation systems to allow outdoor ambient dependent fresh air flow to moderate temperatures and humidity rather than the system compressors starting up. The smart system can be integrated through-out the home to also control various other applications ranging from lights, alarms, CCTV and all media management. System controls range from a phone to wall mounted touch screens anywhere in the home as well as internet links. The ability to have total control is unparalleled, making the smart climate control system a smart choice for homeowners looking to lower energy bills and bring automated home control into their environment.
The unique service is not just for the energy conscious, it even facilitates religious adherence as one such client uses it within the Jewish community allowing the Sabbath to be observed through timer controls and sensors. Exhibiting potential use translating across various applications, benefits for a care home client for their elderly patients were of equal proficiency. With the use of large clear touch interface screens for all to use and understand, no longer was there a struggle to find the lights in the middle of the night as bed motion and temperature sensors alert when to switch on and off lights, adjust temperatures and even alert staff that a patient may have fallen out of bed. The smart system can control various applications around the home also, automatically changing dependent on schedule or sleep patterns, a problem of paramount importance to those suffering with illness and needing constant care in comfortable stable room temperatures.
Pioneering the way for energy efficiency in the custom design and installation of home air-conditioning, renewable solar thermal heating solutions and now bespoke wine cellars with humidity and temperature control, Eco Climate Solutions automated "Smart climate control" systems are here.
Visit "smart climate".