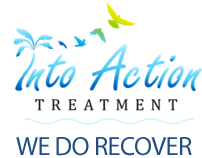 We Do Recover (Into Action Motto)
Boynton Beach, Florida (PRWEB) February 24, 2013
Into Action Treatment, a drug rehab center in Florida, knows how to do recovery. They boast a success rate above 30% for their clients that complete the rigorous program. They are the only Big Book Step Study rehab center based on the Hyannis format in the world. This approach is the closest approach to what the actual founders of Alcoholics Anonymous had in mind when they created the sacred Big Book, or basic text. This book is like the Bible to alcoholics and drug addicts.
Beyond knowing recovery, Into Action Treatment center also knows how to have a lot of fun too. The founder and CEO, Andrey Rossin believes that recovery should be fun, otherwise what is the point in getting sober? "If someone wants to stay sober, there must be a compelling reason to do so, and if their life in recovery is not fun, then there is little chance of long term recovery. We want our clients to learn how to life a fun and sober life, so that is what we model in our treatment center."
The weekends are normally filled with fun activities, like visiting local art shows, snorkeling in the Florida Keys, and so much more. This Sunday, they have a great Big Book Step Study meeting planned, where the clients get their daily dose of recovery. This will be followed by a custom catered beach BBQ, where the clients get out if their day to day routine and get to relax. Living a life that is full of fun and relaxation from the weekly intensive groups and meetings is what Rossin says is vital to their higher than average recovery rate. "We have a great treatment center that is as close to the original message of AA as you will find. The approach we use in intense, but it is the most effective way we have found to help addicts and alcoholics recover."
Into Action Treatment is located in Boynton Beach, South Florida, for more information you can visit the center at 2310 SE 2nd Street, Suite 7, Boynton Beach, FL 33435, 1(855) 933-6732 or visit their website which covers the specific individualized treatment programs and drug detox services they offer.