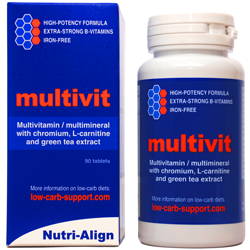 Nutri-Align Multivit is a 3-in-1 product: extra-strong multivitamin/multimineral, tailored for low-carb dieters, plus L-Carnitine and green tea extract.
Oxford, UK (PRWEB UK) 27 February 2013
Nutri-Align Multivit was created based on the recommendations of EU-recognised scientific studies and low-carb diet authors. The full list of included vitamins and nutrients is available on Nutri-Align's retail website Low Carb Diet Support.
Critics of low-carb diets claim that it is impossible to get the full spectrum of necessary nutrients if carbohydrates are restricted. Certain vitamin-rich foods such as fruit and grains are excluded during the initial stages of some low-carb diets. However, taking a multivitamin supplement can help make up for possible deficiencies.
In low-carb dieting the body starts to use up fat for energy instead of glucose. Some people may experience tiredness initially, as their bodies adjust to this change in energy metabolism. Nutri-Align Multivit supports low-carb dieters during and after this transition, as some of its ingredients contribute to:

reduction of tiredness and fatigue
energy-yielding metabolism
maintenance of normal blood glucose levels
protection of cells from oxidative stress
Nutri-Align Multivit formula consists of 19 vitamins and minerals, some of them extra-strong (but well within the safe upper limits as defined by the European Food Safety Authority). The formula does not include iron, as most low-carb diets provide sufficient iron for normal needs. Nutri-Align Multivit is sugar-free and gluten-free.
Nutri-Align Multivit also includes L-Carnitine and green tea extract. These extra ingredients are popular with dieters and fitness enthusiasts.
The founder and owner of Nutri-Align, Margarita Suharchuk, said, "When I first went on Atkins Diet back in 2007, I couldn't find a product to meet all of Dr Atkins' supplementation recommendations, which was frustrating. There were several products available in the US but none in the UK. Instead I had to take five different supplements – iron-free multivitamin, extra B-vitamin complex, chromium, L-Carnitine and selenium. I discovered others experienced the same problem, so I developed Nutri-Align Multivit".
The product is marketed at followers of low-carb diets, such as Atkins, Dukan, Keto and South Beach diets.
Nutri-Align Multivit is manufactured in the UK in line with ISO9001 and GMP standards. It is compliant with EU guidelines on food supplements, including the recent EU Regulation on nutrition and health claims.
Nutri-Align Multivit is available to buy online at Low Carb Diet Support website in packs of 90 tablets (recommended supply for one month) at the retail price of £22.
About Nutri-Align
Nutri-Align Ltd is a start-up company founded in 2012, focused on developing products to support low-carb diets. The company was founded by Margarita Suharchuk, a low-carb food blogger and recipe creator, who has been following a low-carb lifestyle since 2007.
About Low Carb Diet Support website
Low-carb-support.com is a resource for low-carb dieters, with information on popular diets plans, low-carb food and low-carb vitamins and supplements. It includes a blog covering low-carb recipes, low-carb cookbooks and apps reviews, and other tips and advice to support low-carb lifestyle.