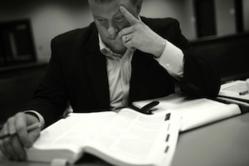 Anyone who comes under investigation for failure to report, pay, or for underreporting income, should immediately talk to a lawyer
RALEIGH, NC (PRWEB) February 25, 2013
In recent weeks, North Carolina's Department of Revenue has increased its enforcement of state Failure to Pay and Failure to File laws, resulting in a number of reports recently of criminal actions filed by the department, according to the News & Observer (February 20, 2013, "Married prison workers arrested on tax evasion charges").
The increased enforcement actions are in part the result of a revamped computer system that has been in development for the past four years, said Raleigh Criminal Lawyer Damon Chetson.
In 2008, the North Carolina Department of Revenue began revamping its outdated computer systems as part of an overall project to improve tax efficiency, customer service, and departmental efficiency.
In addition, the new system was designed with the added feature that it would capture tax cheats.
For years, given the fractured nature of DOR's computer system, tax frauds and tax cheats could escape detection simply because the old computer systems were did not easily reconcile accounts.
As the NC DOR's new system gets up and running, tens of millions of dollars in missing tax revenue has been identified and much of it has been collected.
"Anyone who comes under investigation for failure to report, pay, or for underreporting income, should immediately talk to a lawyer," said Raleigh DWI lawyer Damon Chetson.
In many cases, the DOR has not engaged in criminal enforcement, and those amounts have been paid back quietly as part of civil arrangements.
But as has recently been reported in WRAL, the DOR is cracking down for failure to file and failure to pay North Carolina state taxes.
Under North Carolina criminal law, failure to pay, failure to file, and underreporting of income can be misdemeanor or felonies under Chapter 105, and may result in the requirement that taxpayers pay the tax owed plus interest and penalties.
These three issues can result in civil and criminal penalties, for which it is important to consult with a lawyer.
Naturally, if someone has run afoul of North Carolina's DOR, it's not uncommon for them to also have problems with the federal Internal Revenue Service. Federal IRS regulations and tax laws can result in even harsher penalties.
Disclaimer: While The Chetson Firm works hard to achieve the best possible results in every case it handles, no outcome can be guaranteed. Past results do not guarantee future results. Each case is different. If you are facing a criminal investigation or arrest, seek the immediate assistance of a criminal lawyer licensed in your state. The Chetson Firm's lawyers are licensed to practice in the state courts of North Carolina and in the federal courts of the Eastern District of North Carolina.