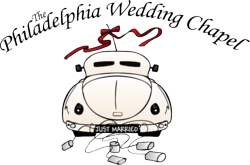 Many couples today just want their ceremony short and sweet minus all the pomp and circumstance.
Philadelphia, PA (PRWEB) February 28, 2013
Launching March 1, 2013, the Philadelphia Wedding Chapel (the "chapel") is the most unique wedding chapel in the area. It is the perfect choice for couples seeking an all-inclusive, unique, non-traditional and affordable place to have their intimate wedding ceremony. Officiants are located on-site to perform non-denominational, personalized civil ceremonies. Couples will also have the option to have their ceremony off-site, at a location of their choice. The Philadelphia Wedding Chapel offers a variety of wedding packages to choose from to suit any budget or need, including a "Vegas" style ceremony done in 20 minutes to one that includes a "mini" reception complete with a champagne toast and cupcakes. The chapel combines convenience and affordability, two very important considerations for today's busy couples. Enhanced packages are available, for an additional cost, which provide add-on services such as flowers, in-house photography and ceremonial items to complete the experience. Couples may use their own preferred officiant or vendors if desired. The chapel is inter-faith and LGBT friendly.
Nestled in a converted warehouse in the heart of the historical manufacturing district of Frankford in Northeast Philadelphia, the1,500sf Soho-style loft boasts hardwood floors, expansive windows and exposed brick and wood beams. The chapel is decorated in upscale modern vintage and has magnificent original industrial fixtures and details mixed with sophistication creating a blend of style, charm and elegance. The chapel has a separate sitting area and a private dressing room. Check out our photo gallery!
The venue will also be available to rent, on a limited basis, for other small events or receptions. The chapel can comfortably host 50 guests. There is seating for 30 people with standing room for an additional 20 or more depending on the re-purposed use. The environment is warm and welcoming and will provide an unforgettable and inviting experience.
The idea of the Philadelphia Wedding Chapel is the brainchild of Stacey L. Thomas who also owns the award winning full service wedding planning company, With This Ring Wedding Planning and Consulting. "The idea for the chapel came from my clients, who during the planning process, were asking for rustic, non-traditional and alternative venues to have their weddings and receptions. It seemed like a natural transition since more and more couples are having their ceremony and celebration in the same place. Fewer are having ceremonies in churches or other types of religious establishments. Many couples today just want their ceremony short and sweet minus all the pomp and circumstance," states Thomas of the exclusive location. Designed to be an all-inclusive, "one stop shopping" concept, the chapel and its sister wedding planning company, will be able to accommodate a couple's every wedding planning and ceremony need.
About With This Ring Wedding Planning and Consulting
With This Ring Wedding Planning Consulting is an award winning full service wedding planning and consulting company servicing clients in Philadelphia and New York.
For more information, please visit http://www.philadelphiaweddingchapel.com and http://www.withthisringllc.com.