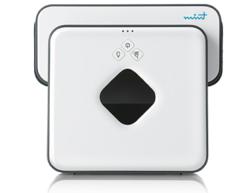 Quincy, MA (PRWEB) February 25, 2013
iRobot Corp. is now offering the Mint floor cleaning robot in order to reach out and fulfill customer needs. The Mint differs from familiar iRobot machines because it is not a vacuuming robot, but rather a versatile hard surface floor cleaner that both sweeps and mops. The Mint works on practically any smooth surface floor, including wood, tile, vinyl and laminate. The iRobot Mint vacuum cleaner utilizes its innovative NorthStar Navigation technology to maneuver underneath and around furniture and avoid ledges. According to iRobot, "Mint® provides iRobot with a complementary dry/wet floor cleaning solution ideally suited for maintenance of hard surfaces. Positive customer experience has driven strong revenue growth since its first product introduction in 2010."
Although it seems like a recent release, the Mint's origins date back to the early 2000s, where it was developed by Evolution Robotics, Inc., a California based company. The first Mint robot was released in 2010 and was designed as an alternative to iRobot's products. Thus, the Mint product line and Evolution Robotics were viewed as a valuable entities— positive market performance and customer feedback certainly substantiates this. iRobot Corp acquired Evolution Robotics in September 2012 as a strategic business move to expand its customer base. iRobot chairman and CEO, Colin Angle, said about the recent acquisition, "There are tremendous opportunities to leverage the strength of the iRobot brand and…expand Mint product sales around the world. Robot floor cleaners are one of the fastest growing consumer products in the past few years and our retailers and distributors welcome opportunities to fuel that growth."
There are two Mint models currently available—the older Mint 4200 and the upgraded Mint+ 5200. Specifications and features of both models can be viewed at eVacuumStore.com.
About eVacuumStore.com:
eVacuumStore.com is well-known to its patrons for specializing in sales, information, and even diagnostics and troubleshooting on vacuum cleaners, vacuum cleaner parts and accessories, as well as a wide variety of other cleaning products and machines such as steam cleaners and shampooers. With eVacuumStore prices already associating the company with bargain deals, discounts, and low prices, sales specific to this time of the year will make the popular internet destination all the more attractive to anybody looking to upgrade their vacuum cleaner, add to their arsenal of cleaning tools and accessories, or replace bags and filters that have fulfilled their duties inside the vacuum.