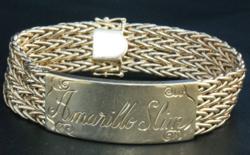 Coming in contact with an item this valuable has inspired us to begin to develop a section of the Texas Poker Store dedicated to one-of-a-kind poker memorabilia.
College Station, Texas (PRWEB) February 26, 2013
The Texas Poker Store has always carried poker-related merchandise in just about every category, from poker tables and chips to poker signs, gifts and accessories. But they have not carried any apparel in their online store until now.
"We've received numerous customer requests for poker t-shirts," said Jim Paris, owner of TPS, "and we've looked at dozens of lines. But until now, we couldn't find a supplier who designed shirts that had their own signature look that appealed to us."
Paris felt that it was important, at least when it came to clothing, that he actually liked and would wear the first t-shirts to appear on the Texas Poker Store site.
"When Joel Zytko of High Roller Clothing contacted me, I was immediately impressed. His designs are not only creative but also reflect my taste in poker t-shirts; I'd definitely wear them," stated Paris. "That was the deciding factor in choosing these t-shirts to launch our apparel division."
In addition, the Texas Poker Store will introduce its own custom tees.
"We've wanted to offer our customers a few t-shirts that are associated with our brand, and this alliance gives us a great opportunity to do just that," stated Paris. "We'll be taking orders for Texas Poker Store branded shirts, including "TPS-All In" and the always in-demand "I May Be Bluffin'"(front) "But You'll Never Know" (back) t-shirt that celebrates our fan-favorite music video."
TPS will begin carrying several different styles of High Roller t-shirts." If our customers like them as much as we do, we'll branch out into other poker apparel," said Paris.
Speaking of customer requests, Texas Poker Store has also received several requests from people who own rare poker memorabilia, from one-of-a-kind poker chips to old plaques and photographs. The requests have involved helping them find a buyer based on the exposure the popular site could bring them.
"We've been considering how best to help them for some time," Paris stated. "But when we got a call the other day from Christopher Herrell of Seguin Texas who owns the 1990 WSOP 14k-gold bracelet won by the legendary Amarillo Slim at the $5000 Buy-In Pot Limit Omaha Event held at the historic Binion's Horseshoe in Las Vegas, we were as excited as he was.
This is a rare piece of poker history linked to the beginning of the World Series of Poker.
"We wrote several blogs about the history of poker, and Amarillo Slim's role in that story,"said Paris. "Coming in contact with an item this valuable finally inspired us to dedicate a section of the Texas Poker Store to showcase one-of-a-kind poker memorabilia."
About Texas Poker Store
Located in College Station - Bryan, Texas, the Texas Poker Store is a fully-stocked online poker store that offers 100 percent secured shopping and features hundreds of poker supplies. The Texas Poker Store was founded by Poker Lovers and Die Hard Players, Jim and Lynn Paris. We live in Texas, we play Texas Hold 'em and we welcome you to visit our store. You can find the Texas Poker Store at http://www.texaspokerstore.com, visit their blog at http://www.texaspokerstoreblog.com, and follow them on Twitter, FaceBook and on Pinterest.
Jim Paris
Chief Dealer
Texas Poker Store
302 N. Bryan Street
Bryan, Texas 77840
1-866-213-1594
979-595-7390