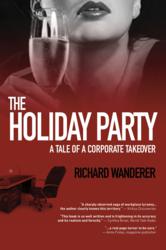 Los Angeles, California (PRWEB) February 26, 2013
Richard Wanderer, a member of the California Bar, spent over fifty years working in the advertising departments of major national magazines in New York City and Los Angeles. Richard is the author of a critically acclaimed fictional suspense novel, "The Holiday Party (A Tale of a Corporate Takeover)."
Richard is an expert in the field of corporate takeover and has firsthand accounts of what it can cause for the lives of the employees that are directly affected. Richard offers the five most important things an employee can do when the employer is taken over by another organization.
1. The takeover corporation should be checked out for employee treatment. The manner in which they treat their own employees often suggests how they will treat employees of the company they have just taken over. Therefore, one should find websites like Glassdoor.com that lists, according to employees, reviews of thousands of companies. One is also advised to ask friends and acquaintances in the industry involved what they have heard about the takeover corporation. In other words, get feedback.
2. The employee should visit their human resources department, but cautions with this caveat - they work for the same employer that the employee does. The employee should be discreet. The employee should find out about all the benefits that have accrued to them through their employment - savings programs if their company had one, as well as their 401K, health benefits, etc. Employees should receive all of the paperwork they are entitled to.
3. It is a wise investment to bring all the paperwork the employee receives to a good actuary. An older employee may find they are entitled to extra benefits they never knew they were entitled to.
4. The employee should locate a good employer/employee attorney specialist in order to better understand their particular situation. The state bar, where the employee is located, can often help find an attorney who is a specialist in this area of practice. Wanderer cautions the employee to realize that the employer usually has its own lawyers and therefore the employee would be well advised not to stand alone.
5. While the new management is settling in, the novelist suggests the employee should be very careful about confiding anything of a negative nature to the new management they are now dealing with. They well may have their own agendas.
Richard believes that employees caught in this type of situation should pause - not panic - but instead think of all of the possible options that are open to them. For example, going into a business of their own, if they can capitalize on the skills they have acquired over the years, or even head off in a new career direction or returning to school to improve their job skills are some of their viable options.
Richard Wanderer's fictional suspense novel, "The Holiday Party (A Tale of a Corporate Takeover)", deals with the takeover of a family owned national magazine, run in an employee friendly manner, by a huge media conglomerate that installs a Draconian thrift regime. His characters and situations are often an amalgamation of scenarios he encountered over the years. His novel has received very strong reviews: Kirkus Reviews calls it, "A Sharply observed saga of workplace tyranny"; San Francisco Book Review; "Page-turner"; MidwestBook Review, "Highly Recommended"; Indie Reader, "Suspenseful"; Bookviews by Alan Caruba, "Leaps off its pages".