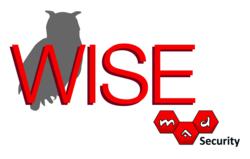 Security awareness training should be more than just an expensive compliance exercise.
San Francisco, CA (PRWEB) February 25, 2013
MAD Security, LLC (http://www.madsecurity.com), a world leader in security awareness and training, announced today the launch of its Workforce Information Security Education (WISE) security awareness training content and platform. WISE focuses on reaching users and changing their behavior – not just providing knowledge, but also making the organization more secure through behavior modification.
"All of our compliance regulations force annual awareness training on the organization" says Mike Murray, a managing partner at MAD Security. "Other security awareness programs just throw information at the user and wraps it in a package that only resonates with security people. WISE was built from the belief that changing user behavior would result in a more secure environment and that the training program should actually achieve an acceptable level of security, not just be an expensive compliance exercise."
"From the beginning, our goals were to make WISE flexible, intuitive, and powerful," says Aaron Cohen, managing partner at MAD Security. "WISE can be delivered in any way a customer could want it. It's incredibly user friendly, the tracking and status reports are invaluable to managers and supervisors. I can confidently say that we've made the best security awareness training program and platform in the world."
These courses can be delivered in various ways to accommodate an organization's individual needs: through its own Learning Management System (LMS) or hosted on MAD's WISE platform (either in the cloud or on the customer's premises). The WISE platform was built from the ground up to host security awareness content and delivers the detailed tracking and reports which allow an enterprise to meet compliance and regulatory goals.