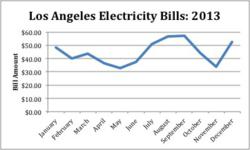 Houston, Texas (PRWEB) February 25, 2013
Using historic EIA.gov data as a guide, WhiteFence has calculated that the average monthly electricity consumption for a California residential utility customer during 2012 was 562 kWh, meaning that for the whole year, average yearly consumption was 6,744 kWh.
In addition to the above data, the variation of electricity sales to retail consumers in Texas from month to month was used to put together a set of numbers representing the usage of an average California utility customer each month of the year:
January: 593 kWh
February: 512 kWh
March: 557 kWh
April: 488 kWh
May: 462 kWh
June: 528 kWh
July: 626 kWh
August: 668 kWh
September: 657 kWh
October: 553 kWh
November: 494 kWh
December: 604 kWh
This allows customers to get an idea of how their own utility bills might vary across the year and plan accordingly by comparing these usage amounts to their own.
Using our index data, which uses samples of fixed rates that Houston providers are offering at the time the data is gathered, we have put together a chart showing average electricity bills paid by Los Angeles residents in 2012, which is featured in this release.
This chart provides a guide so that Los Angeles customers might be able to get an idea of what their bills will be like over the course of a year, which will enable them to budget more accurately.
Los Angeles has some of the lowest utility bills relative to the other cities in the index, mostly due to the mild weather that necessitates low electricity usage. There is also less seasonal variance due to that mild weather. Another factor that contributes to the low utility bills is the relatively low per kWh rates reported each month for the two Los Angeles utility providers used to calculate the average rates used in the index, Southern California Edison and the Los Angeles Department of Water and Power.