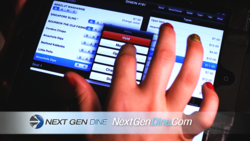 Las Vegas, NV (PRWEB) February 25, 2013
Next Gen Dine, the Future of Restaurant Dining, can now send end-to-end encrypted credit card payments directly to the Merchant Warehouse payment gateway enabling an even broader base of merchants to integrate Next Gen Dine directly to the payment processor of their choice. This added functionality does not require any changes to an existing Next Gen Dine deployment and uses the standard MagTek iDynamo encrypted credit card reader iPad accessory. From the moment the card is swiped, its contents are encrypted directly by the card reader and sent via SSL to the Prelag Partners payment gateway server. From there, for merchants who are using Merchant Warehouse, the payment information is forwarded to the Merchant Warehouse payment servers for verification. The entire process remains PCI compliant because at no time is any customer payment or personal information stored by Next Gen Dine, the iPad, or the Prelag Partners payment servers.
Next Gen Dine is a mobile restaurant point of sale software designed for the iPad, and soon, Windows Surface. Restaurant owners can realize the benefits of a full-featured point of sale system for a fraction of the cost of a traditional point of sale. Because of the mobility offered by the software, servers can take orders directly at the table, take credit card payments at the customers side, and drastically reduce foot traffic. Orders are sent directly to the appropriate prep. station instantly, therefore decreasing order turnaround time. Next Gen Dine currently supports Mercury, USA ePay, and now, the Merchant Warehouse credit card payment gateways.