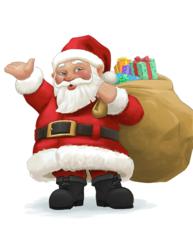 One of the world's truly unique domain names, Santa.com, is now for sale.
San Francisco, CA (PRWEB) February 27, 2013
"Not since Toys.com was sold for $5mm has there been a comparable domain available for purchase. This is a rare opportunity to acquire the single best domain name connected to one of the most iconic and beloved characters in the world," says Santa.com's co-owner Will Weisman, a former venture capitalist. "What's amazing is that no company has truly leveraged the power of Santa in the 21st Century. I think of what Coca-Cola did previously with Santa, and see an amazing opportunity for some innovative business to build upon his magic in a way that capitalizes on today's tech enabled world."
Santa.com addresses the vast holiday and gifting market. It's a natural given that Santa is at the center of so much thinking regarding gift giving, especially for children who receive seven times more presents then adults. Over the past two years, Santa.com developed a platform for families to share wish lists, for kids to send letters to Santa and for parents to manage Santa's letters back to kids, including physical letters from the North Pole.
The company has recently received interest in acquiring its key assets and trademarks and is reaching out to invite other interested parties to submit a bid by March 25th
"What would you do if you owned Santa.com?" asked Mr. Weisman. The question has so many interesting answers.
Interested parties should submit their bid to the company end of day on March 25th, 2013.
Stay tuned to see who the lucky buyer will be.
Interested parties should contact:
Gary Himes
gjhimes(at)gmail(dot)com
415-860-4785
Keywords: Christmas, Santa, Holidays, Gifting, Xmas, Elf on a Shelf, Target, Amazon, Quidsi, Yoyo, Toys-R-Us, Google, Yahoo, Santa Tracker, E-Commerce.