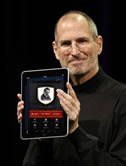 The Newest and Best Way to Access the Oldest Book.
Los Angeles. CA (PRWEB) February 25, 2013
The Audio Bible App, which is composed of a sophisticated engine that synchronizes the Voice of the most acclaimed narrator of his time, Alexander Scourby and the heritage of the King James Bible. This combination results in the most advanced presentation method yet known as a Bimodal format.
Litchfield Associates originally initiated the development of their first Audio Bible App about 5 years ago when apps were still in their infancy. There first app was developed for the Iphone and Ipad and sold via iTunes and was very successful and then the company developed the Bible app for the Android mobile users.
The narrations of Alexander Scourby have been used extensively in the past by many companies in presenting an Audio Bible of the King James Bible version. this was done in various formats from Cassettes in the 1970's to the newest way to access the oldest book in 2013. Alexander Scourby has sold millions of audio Bible recorindings since the 1970's and has found a steady and faithful following during that time, mainly due to the vividness of the his presentation as he brings the words of the Bible to life with his readings.
Combined with the power of the iOS environment of Apple and Android Mobile Operating System, the Scourby Audio Bible Apps have since made a big impact in the market place and as a result market share continues to grow. The unbeatable team of Alexander Scourby, whom the Chicago Tribune wrote has the greatest voice ever recorded, and the King James Bible, which is reputed to be the best and most accurate translation ever done, has caused the Scourby Audio Bible app to be a resounding success in the Audio Bible app market.
Featured with Scourby's unequaled voice, with his clear and vivid narration, the Audio Bible App has been overwhelminly acclaimed. It has a powerful database engine that can pull up Book, chapter and verse, and even words in seconds. The App has a play list creation feature that permits users to save their favorite verses to playlist for future reference or even to play at bed time.
Litchfield Associates is the sole owners of all the narrations of the King James Bible as well as the Scourby Audio Bible app, which is simply the Newest and best way to access the oldest Book.
Go to http://scourby.com for complete details and take a app tour and listen to the greatest voice ever recorded narrator selected passages.