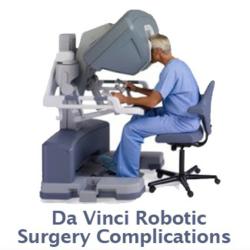 If you or a loved one has been injured by a da Vinci surgical robot contact Wright & Schulte LLC, a leading medical device injury law firm today at 1-888-365-2602 or visit www.yourlegalhelp.com
Dayton, OH (PRWEB) February 25, 2013
The Da Vinci Surgical Robot lawyers at Wright & Schulte LLC, an experienced defective medical device law firm, are disturbed by a recent study that found the use of robot-assisted hysterectomies has risen dramatically in recent years. According to researchers writing in the Journal of the American Medical Association (JAMA), such robotic surgery procedures have grown in popularity despite added costs and similar complication rates compared with laparoscopic procedures.
http://jama.jamanetwork.com/issue.aspx
According to a report published last month by StreetInsider.com, at least nine Da Vinci Robot lawsuits have been filed by patients who allegedly suffered serious, and in some cases, fatal complications during robotic surgery procedures that involved the Da Vinci Surgical System. Wright & Schulte LLC is now offering free robotic surgery lawsuit consultations to individuals who sustained serious complications in Da Vinci Robot procedures, including:

Tears and/or burns of the intestines
Punctured blood vessels
Punctured and/or cut ureters
Severe bowel injuries
Vaginal cuff dehiscence
Excessive bleeding
Surgical burns
Sepsis
Peritonitis
Death
For more information on filing a Da Vinci Robotic Surgery lawsuit, or to arrange for a free legal consultation, please visit yourlegalhelp.com.
[streetinsider.com/Analyst+Comments
/Bloom+Could+Come+Off+Intuitive+Surgicals+ %28ISRG%29+Rose+as+Lawsuits+Fly+-+Citron/
7960336.html]
The Da Vinci Surgical System, marketed by Intuitive Surgical, is a large, remote-controlled robot used to perform minimally-invasive surgeries, including hysterectomies, prostate removals, gall bladder removals, gastric bypass, and thyroid cancer surgery. According to a recent report from The Wall Street Journal, the Da Vinci Robot has been purchased by some 1,370 hospitals since being brought to market. Sales of the Da Vinci system have been spurred by promises that it offers patients less scarring, less pain, less blood loss, fewer complications, shorter hospital stays and a faster recovery than traditional procedures.
[online.wsj.com/article/SB10001424127887323764804578314182573530720.html]
According to the newly-published JAMA study, robotically assisted procedures accounted for just 0.5% of hysterectomies in 2007, but grew to almost 10% of procedures in 2010. The increase was even more dramatic at hospitals where robotic surgery was offered, with 22% involving robotic procedures. A quarter of the women who had laparoscopic hysterectomies stayed in the hospital longer than two days, compared with 20% of those who had robotic procedures. But the complication rate for both groups was 5%. The cost for robotic hysterectomy was $8,868 per procedure, compared with $6,679 for a laparoscopic procedure. "Our study indicates that, while robotic assistance was associated with increased use of minimally invasive surgery for hysterectomy, when compared with laparoscopic hysterectomy, the robotic procedure offers little short-term benefit and is accompanied by significantly higher costs," the authors of the study wrote.
This is not the first time research has raised questions about the benefits of robotic surgery. In 2009, another JAMA study reported that prostate cancer patients who underwent minimally-invasive prostate removal, the majority of which involve a robotic procedure, were more than twice as likely to experience incontinence or impotence 18 months post-op, compared to patients who had traditional surgery. Success at controlling the cancer was about the same for both operations. A study published in January 2012 in the Journal of Clinical Oncology found that women treated with the Da Vinci Robot for endometrial cancer had about the same complication rates as those who underwent traditional laparoscopy.
[jama.jamanetwork.com/article.aspx?articleid=184709#Abstract]
[jco.ascopubs.org/content/30/8/783.abstract?sid=07a4c9c2-d74d-4b1d-9b85-5b40e953e060]
About Wright & Schulte LLC
Wright & Schulte LLC, an experienced personal injury firm, is dedicated to the belief that America's legal system should work for the people. Every day, the attorneys of Wright Schulte LLC stand up for the rights of people who have been injured or wronged, and fight tirelessly to ensure that even the world's most powerful corporations take responsibility for their actions. If you're looking for a law firm that will guarantee the aggressive and personal representation you deserve, please do not hesitate to contact Wright & Schulte LLC today. Free Da Vinci Robotic Surgery lawsuit case evaluations are available through yourlegalhelp.com, or call 1-800-399-0795
Contact:
Wright Schulte LLC
812 East National Road
Vandalia, Ohio 45377
1-800-399-0795