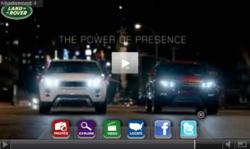 Redwood Shores, Calif. (PRWEB) February 25, 2013
Reaffirming its commitment to interactive video advertising excellence, Jivox today announced it has implemented all five of the winning Interactive Advertising Bureau (IAB's) Digital Video Rising Stars ad formats in the Jivox Interactive Ad Platform. At the IAB Annual Leadership conference, Jivox was announced a winner for two submissions which will be incorporated into the Digital Video Rising Stars ad formats. The new winning Rising Stars ad formats are available immediately.
Additionally, Videology, a leading video advertising platform and solutions provider, has joined forces with Jivox to enable advertisers to immediately start implementing these new ad formats, which offer higher engagement and measurability, and spur greater creativity in digital video advertising.
"We applaud and fully support the IAB's efforts to increase standardization and help drive effectiveness and innovation within video advertising," said Mark McKee, senior vice president, global marketing and sales strategy at Videology. "As our industry matures, we're seeing increasingly urgent demand from our clients for video ad units that create greater engagement and more meaningful user experiences. That's why we're thrilled to partner with Jivox to bring the new "Rising Stars" ad units to our clients at scale, and as importantly—right now."
In December 2012, comScore reported that 187 million U.S. Internet users watched 38.7 billion online content videos and 11.3 billion video ads were viewed. This provides a great opportunity for brands to use interactive video ads as a way of creating brand engagement online.
The new "Scenes" capability of the Jivox platform enabled rapid implementation of the new IAB Digital Video Rising Stars and speaks to the strengths of the platform in creating and executing new ad formats and concepts. Jivox "Scenes" enables multi-stage storylines to be easily constructed within a single ad. It automates the creation and transitions of "Scenes" that may contain other videos, games, animations, etc. that the user can engage with. By combining the power of in-stream video with the engagement of rich media, this storytelling capability creates high-levels of user engagement. The Jivox Interactive Ad Platform also automatically optimizes ads for any screen or device.
"There is a lot of repurposing of TV ads online, which simply extends TV's reach to online viewers, however the big opportunity ahead is for brands to utilize the two-way interaction capabilities of digital platforms to create true engagement with their targeted audience," said Diaz Nesamoney, CEO and founder of Jivox. "The IAB Digital Video Rising Stars are designed to provide a richer canvas for creating engaging brand experiences at scale. We are honored to be recognized by the IAB and look forward to working with industry leaders, such as Videology, to implement the new IAB formats and accelerate standardization and creativity in digital video."
Jivox is supporting all five winning "Digital Video Rising Stars" formats, including:
· Live Ad Demo: IAB Video Full Screen
· Live Ad Demo: IAB Video Control Bar
· Live Ad Demo: IAB Video Extender
· Live Ad Demo: IAB Video Filmstrip
· Live Ad Demo: IAB Video TimeSync
"We called on the best in the digital video industry to help us establish ad standards that will make it easier for agencies to deliver highly creative digital video ads at scale," said Peter Minnium, head of brand initiatives, IAB. "The IAB has always encouraged partnerships between media platforms and ad technology providers to ensure emerging ad formats can be delivered at scale, so we are glad to see such a partnership between Jivox and Videology."
Jivox partners with the world's largest and most respected brand advertisers, digital agencies and publishers to deliver creative interactive ad formats on any screen.
About Jivox
Jivox is the leading multi-screen interactive advertising technology company. The Jivox Interactive Ad Platform enables digital agencies and publishers to produce and deliver highly engaging ads featuring video, rich media, dynamic content, customizable widgets and social sharing. Using Jivox, interactive ads can be easily authored and served in-stream, in-banner and on smartphones and tablet devices. Jivox technology eliminates the time consuming and expensive process of traditional code-based approaches and the challenges associated with delivering interactive ads across multiple screens and connected devices. Jivox also provides sophisticated campaign performance tracking, demographic analytics and purchase intent analytics via BrandGage — its proprietary real-time analytics platform. Several hundred media companies and agencies use Jivox, including College Humor, Federated Media, FUOR Digital, Havas, Interactive One, Martha Stewart, Martini Media, Mojiva, Sun Times Media, Universal McCann and Videology. For examples of Jivox ads see: http://www.jivox.com/demoads.
About Videology
Videology (videologygroup.com) is an enterprise media technology for agencies and publishers. Videology provides end-to-end, holistic, cross-device and cross-format solutions to improve ROI for advertisers, agencies and publishers.
Videology, Inc., is a privately-held, venture-backed company, whose investors include NEA, Valhalla Partners and Comcast Ventures. Videology is headquartered in Baltimore, MD, with key offices in New York, Austin, Toronto, London, Paris, Madrid, Singapore, Sydney and sales teams across North America.