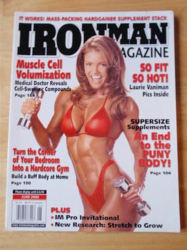 two of the biggest reasons why I wanted to be part of the Integrity team is they are results oriented and they understand that the most effective way to build a healthy body is through building healthy relationships first
Bedford, New Hampshire (PRWEB) February 25, 2013
Integrity Health is proud to announce the addition of IFBB Fitness Pro and model,Laurie Vaniman to their squad of highly effective coaches. Vaniman, a recent transplant to New England from the West Coast is very excited to join Integrity. Laurie states: "two of the biggest reasons why I wanted to be part of the Integrity team is they are results oriented and they understand that the most effective way to build a healthy body is through building a healthy relationship first."
Vaniman is also an ISSA Certified Personal Trainer and ran her own business in the San Diego area of California. She has graced the covers of many fitness magazines such as Iron Man and Oxygen and has appeared in countless articles and photo shoots related to fitness. Laurie's passion for helping women is apparent the moment you speak with her about the subject. She understands how women who are struggling with health feel, and looks forward to building many new relationships that lead to their overall success.
If you have questions about fitness and would like to meet Laurie Vaniman in person, just come by Integrity's Health Coaching Center located at 25 S. River Road in Bedford, New Hampshire most mornings before 12pm.