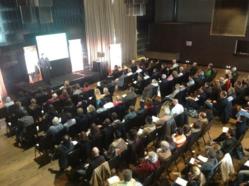 You can't solve today's new problems with yesterday's old processes
Melbourne, Australia (PRWEB) February 25, 2013
A report by J.P. Morgan showed more than 35 per cent people who have bought houses in 2008 now owe more mortgage than what their houses were originally worth. "Houses could stay in negative equity for up to six years, with property prices expected to remain soft for the foreseeable future," the report said.
This is why property innovator, Rick Otton, is coming to Melbourne on March 9 for a one-day training seminar. "I'll show you how to purchase a house for a dollar and generate positive cash flow from day one even if you have no deposit, no bank loan, and no real estate experience," Otton said.
Otton says, "You can't solve today's new problems with yesterday's old processes." This is why he is continuously sharing and teaching people his breakthrough and innovative strategies. "It's always possible to create a solution – all you need to do is look at the situation a little differently," Otton adds.
Turning Negative Gearing into Positive
Most people purchase property with the intention of holding it long term and realizing the capital growth in the future. But the holding costs can be extreme. "To turn the situation around and be able to get some money out of the transaction, what you need is a shift in thinking," Otton explained.
Rick Otton will explain why negative gearing is stupid and how could people avoid it. For those who currently own a negatively geared property, he will show them how revolutionary system could help them turn their negatively geared properties into positively geared!
"The only decision the owner needs to make is whether they want to sell the property or keep it. All it takes is opening your minds to see things and do things differently," Otton said.
Breakthrough Revolutionary System
Otton's system is so simple, a 12-year-old could understand it. And Otton is going to reveal them to you in plain, easy to understand terms in his one-day property investment training seminar.
"You will be riveted to your chair as I detail every single step. All I ask is that you're willing to think outside the box while I'll share with you the same strategies I use to buy properties for $1 and create cash flow income – without ever stepping inside a bank or saving thousands for a deposit," Otton explained.
Real estate millionaire, Otton will be explaining more about his revolutionary system in a one-day training seminar in Melbourne, March 9 at the Mercure Melbourne Treasury Gardens.
"I'm putting on this free event valued at $1,597 to educate the masses about creative ways to buy and sell houses without a bank, a deposit, stamp duty and little or none of your own money." Otton said.
Reserve your tickets for this event now at HowToBuyAHouseForADollar.com before all the seats are gone.
About Rick Otton
Rick Otton has spent decades making money by snapping up inexpensive real estate and putting it to work building wealth.
He is the founder and CEO of We Buy Houses, which operates in the U.S., U.K., Australia and New Zealand putting his strategies to work every day.
Otton received his start in alternative real estate investment in 1991 and within a year acquired 76 properties. In the following years, he made a fortune using his low-risk, high-reward strategies to inexpensively acquire real estate.
Now, Otton shares the wealth by sharing the wisdom, teaching others how to buy and sell real estate without cutting banks and other middlemen in on the deal.
In 2008 Rick revealed his strategies in the United Kingdom and became the creator of 'Houses for a Pound'. Otton has been featured in a variety of television programs and magazines.
To learn more about Mr. Otton's property book, visit HowToBuyAHouseforADollar.com