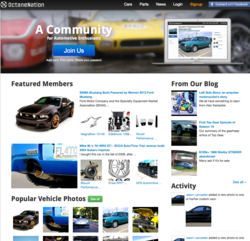 I was frustrated by finding information about aftermarket parts. Forums are broken so I created OctaneNation.
(PRWEB) February 26, 2013
OctaneNation.com has launched the first automotive social network centered on the $30B market of parts that enthusiasts use to customize their vehicles. By connecting users through the parts they have in common, OctaneNation.com has developed a unique take on the typical forum that most enthusiasts currently use.
"I was frustrated by finding information about aftermarket parts. Forums are broken so I created OctaneNation," explains founder Matt Beaubien. "When researching a part purchase, a consumer often starts by visiting a forum. They post a question about the part, and the typical response is 'Did you search the archive?'. Forums don't do a do a good job of capturing this type of information, and the same discussion about the same part could be taking place in hundreds or even thousands of forums. OctaneNation.com aims to centralize this information and connect users who currently visit different forums but have parts in common."
Users, both enthusiasts and professionals, can create a virtual 'build sheet' of their vehicles and custom parts thanks to detailed profiles. Each part has its own page that shows product specifications as well as vehicles that have the part. Part manufacturers can showcase vehicles that used specific parts. Retailers and installers can highlight a wide range of parts used on a single project.
OctaneNation.com is designed to import industry-standard ACES/PIES data to provide users with official part information but also offers users the ability to add parts that are not yet in the database. It is free for companies to have their parts added to the OctaneNation.com part database.
OctaneNation.com features Facebook integration, leveraging users' existing social graph to showoff their profiles and connect with other enthusiasts.
In 2011 Beaubien moved to Santiago, Chile after he was accepted into a government-sponsored incubator program called Startup-Chile. The Chilean government provided a visa and US$40k of equity-free financing for developing OctaneNation.com.
In 2012 Beaubien was one of twelve winners of the Specialty Equipment Market Association (SEMA) Young Executive Network Fellowship Program and, as a winner of the program, attended the 2012 SEMA Show and participated in a number of seminars, keynotes, networking lunches and receptions, culminating with an evening at the annual SEMA banquet. The annual SEMA show attracts 100,000 people to the trade show and is only open to people working in the industry.
About the founders
Matt Beaubien, CEO, originally from Alberta, Canada, started his automotive passion with classic Datsun's and Honda's that he raced on road courses, ovals, and ice. After obtaining a BSc in Mechanical Engineering he started his automotive career with Roush Industries in Detroit, working as a design engineer on iconic performance vehicles such as the Ford SVT Lightning and Ford GT. He later moved to France where he worked for a manufacturer of plastic components focused on the OEM market. From France he moved to Barcelona Spain where he completed an MBA at the ESADE Business School.
"I've been an automotive and technology enthusiast for more then 20 years, and I wanted to create a product that fixes a lot of problems people have with typical forums", Beaubien said.
Hector Garcia, CTO, is an entrepreneur born in Barcelona, with a long career in the field of digital technologies and the Internet. He currently lives in Latin America and has served as a technology consultant to clients in cities such as Rio de Janeiro, Santiago de Chile, Buenos Aires and Mexico City, among others.