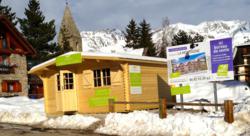 It's a very easy place to vacation, and that is what appeals to so many people, especially the ones who live on the Cote d'Azur
Nice, France (PRWEB UK) 27 February 2013
The New Build department of Nice Properties Real Estate Group has launched the new sales chalet for the new La Montagne condominium project in the Auron ski resort.
Located right on the central plaza of the village of Auron, the La Montagne condominium project will feature 38 mountain-Zen style units located just 50 meters from the ski lift. This project will be the second new project for Auron, after the Las Donnas 2474 4-star tourism residence that was launched the previous year in 2012.
The sales chalet, which officially opened this last weekend in Auron during the February school holiday has already sold out 50% of the project and all the top units.
Nicolas Viale, manager for the Nice Properties New Build department explains, "Besides having an incredible ski season this year with so much snowfall, Auron has recently been experiencing a lot of growth and interest by both developers reflecting the strong demand by people looking to buy mainly because of it's close proximity to Nice, just 1 1/2 hours driving, with great skiing and outfitted for activities/entertainment for the entire family. It's a very easy place to vacation, and that is what appeals to so many people, especially the ones who live on the Cote d'Azur."
For the British ski enthusiasts, Auron also offers more sunny skiing and an easy access since the closest ski resort to London is in Scotland which is 6 hours away.
With respect specifically to the La Montagne project, Viale explains "The location of this project which is right on the plaza in front of the skating rink and 50 meters to the ski lift, is what is making this project very popular right now."
Delivery of the project is scheduled for winter 2014.
About Nice Properties Real Estate Group
Nice Properties is the French Riviera's leading real estate group specializing in the sale of luxury villas, vacation homes, apartments, commercial real estate and new build programs. They have the most effective professional multi-lingual network of real estate professionals with five offices along the Cote d'Azur from Cannes to Beaulieau, providing an efficient and seamless platform for the best real estate opportunities and investments on the French Riviera. To find out more information about the best properties for sale or for seasonal rental on the French Riviera, please visit http://www.nice-properties.com.