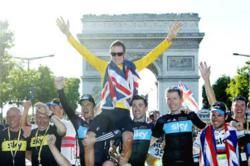 Fnac is a fantastic marketplace, and Seller Dynamics makes it easy for British retailers to earn new Euro revenue from it
Stirling, United Kingdon (PRWEB UK) 25 February 2013
Online retailers looking to trade in Europe will be buoyed by the news that Seller Dynamics' re-pricing features have been fully integrated with the Fnac marketplace. The Stirling based marketplace management experts are official partners of French retail giant Fnac and offer e-retailers a low-risk gateway to one of Europe's largest and fastest growing marketplaces. While this partnership has been active since July, the recent integration means that Seller Dynamics will now be able to offer clients use of all their automated features when trading on Fnac.
These clients can now benefit from 'Dynamic Price Management' and 'Competitor Monitoring'– two key selling points of the cloud-based marketplace management software. In the past, selling on multiple marketplaces meant that it would be near impossible to monitor the actions of every competitor.
Harder still would be to manually change the price of your product based on the fluctuating prices of rivals selling the same or similar goods. Seller Dynamics takes care of all this however and bringing this automated service to Fnac will prove advantageous for clients looking to penetrate the broader European market.
As a result, a client of Seller Dynamics can list numerous items onto Fnac and assign each with a minimum and maximum profit margin. Once this simple task is complete, Seller Dynamics' Fnac repricing will take it from there, assessing the price of every competitor 24/7 and making price changes if necessary.
Steve Boland of Seller Dynamics has called for British companies to use this fantastic opportunity to enhance their e-commerce operations and test the waters of the European marketplace:
"In all the years since Napoleon described Britain as a nation of shopkeepers" says Boland, "British retailers have never had a better opportunity to sell from our shops to his countrymen. Fnac is a fantastic marketplace, and Seller Dynamics makes it easy for British retailers to earn new Euro revenue from it."
While selling abroad offers companies access to new markets, many have failed due to numerous barriers of entry. Seller Dynamics offers a solution to overcome these barriers through e-commerce, so there's no need for businesses to move country or open overseas offices. Equally important is the reputation of Fnac on the continent. With 1/3rd of all French internet shoppers using Fnac to buy goods, their strong brand image is key as many French shoppers may prefer to use a domestic marketplace.
With Seller Dynamics, language is no problem either. Barcode scanning means that once a product list is uploaded to Fnac through Seller Dynamics, each product will be identified through its unique Fnac ID. This guarantees that the listed product is a correct match to its barcode and that it is displayed on the Fnac website in the correct language.
---------- End ----------
For further information contact Seller Dynamics
at +44 (0)1786 430076
or email steve.boland (at) sellerdynamics (dot) com
Note for editors:
About Seller Dynamics: Seller Dynamics is dedicated to helping retailers maximise their sales and profits online, by utilising the power of Marketplaces such as Amazon, eBay, Play.com, and Fnac.com. With Seller Dynamics, retailers can list their entire product portfolio on these marketplaces, reaching a global audience of billions, while simplifying their overall business management through Seller Dynamics' powerful inventory management and dynamic price management tools.
Seller Dynamics is a brand of Objective Associates Limited, a leading software and web development agency based in Stirling, Scotland. The company offers Seller Dynamics on a commission based model together with a modest set up fee. Formed in 2002 with a background in class-leading enterprise-grade software development, the company has significant expertise in the design and development of robust and scalable software systems utilising the Microsoft Platform and related technologies.
About Fnac.com – From humble beginnings as a Parisian members-only discount buyers' club in 1954, Fnac has grown to become France's largest entertainment and electronics retailer with the company, expanding its operations throughout Europe and South America. Originally founded to provide high quality but affordable goods to the worker, the company still follows that philosophy ensuring that every product directly sold by them is independently tested to meet a minimum set of requirements. In addition to selling a huge range of cultural and electrical goods, Fnac also offers photography services, ticket sales, home and kitchen accessories, toys and games and a wide selection of high-end consumer products. There are currently more than 150 Fnac stores operating in seven countries with its international operations now accounting for nearly one third of its overall revenue. Fnac is one of France's most trusted brands, and Fnac.com is used by over a third of all French internet users, with 10 million unique visitors using the site every month.