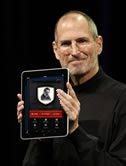 The newest and best way to access the oldest book
New York, NY (PRWEB) February 26, 2013
The Scourby Audio Bible App, is the number one word-per-word narration of the King James Bible according to a recent survey of iPhone and Android users. The voice recording in the Bible app is provided by Alexander Scourby, noted as the greatest voice ever recorded by the Chicago Tribune.
The Audio Bible app is well-indexed, with textual syncing with the Narration of Alexander Scourby and the text being read is highlighted in yellow as it's being read. So users can focus on what is being read. The Bible app also features bookmarking and history capabilities. The Bible app also features a play list creation capability. Users can make playlist of their favorite verses, much like a playlist of favorite music. Users can then refer to it later and even choose a playlist for Bible Study or even to play at bed time.
Bible Study and personal devotions are an essential part of a Christian walk. Now, users can benefit from the newest way to access the King James Bible. Just a few short years ago, the features offered in this app would have been unimaginable because the technology just wasn't there.
However, that all changed dramatically with the advent of the iPhone and Android mobile devices and the software applications that followed, which is simply called (APPS). The developer choose the King James Bible, whose preservation and history present the most accurate translation of the Canonical Bible; visit Scourby.com for more on the subject. Alexander Scourby was chosen because he has the greatest voice ever recoded, according to the Chicago Tribune.
Another great way of enhancing the session is including authoritative readings of the Bible in a clear and resonant voice that will command attention and an unbiased presentation of the Bible readings, with well-choreographed tonal variation and accentual articulation. These are the features not available in most other Audio Bible apps.
The Scourby Audio Bible app not only has these features, but it is designed to keep record of all the readings conducted in the session, and would also give the participants time to plan for the readings using the bookmarking feature. Using a unified version keeps the interpretation unified, and allows all the readers to form an opinion from a singular source of information, making the Bible Study session not only genuine and close to accuracy, but deep and engaging.
A Bible study session should allow time for discussion and affirmation of opinions, and sometimes a bible search may be required to yield a verse of phrase from the Bible. The non-distracting interface of the Scourby Bible App will allow for a quick search while keeping attention to the session proceedings. Visit Scourby.com and find out more on how the Scourby Bible Apps can enhance a Bible Study session.
Litchfield Associates are the sole owners of all Scourby Narration Productions, and are the developers of the Scourby Audio Bible Apps and Bible Mp3 download. Litchfield Associates has raised the bar in audio presentations of the King James Bible. Users can get full details on these cutting edge technological products, which are the newest way to access the oldest book at : http://scourby.com