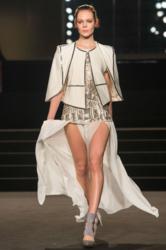 "Our fitting team have done a marvellous job fitting the carpet at all the London Fashion Week events. They were quick, efficient and professional and we look forward to doing lots more projects like this in the future." Rob Forey
(PRWEB UK) 27 February 2013
London Fashion Week is a very busy few weeks for all concerned and CTN Exhibitions were kept extremely busy. The week started with the installation of Salsa velour carpet at Somerset House for one of Vodaphone's launch parties. This was then followed by fitting the catwalk and seating area for fashion label Erdem with Diamond Black grass carpet as well as fitting black Expo Cord cord carpet in the seating area and on the mezzanine floor for Anya Hindmarch. 400 guests attended the Anya Hindmarch "Cascade" show to watch the spectacle of 50000 dominos toppling over revealing the new handbag collection. "The photos of the event look fantastic and it is nice to think that our carpet subtly complimented the spectacle," stated Emma Davies, CTN Exhibitions Sales and Marketing Executive.
The fitting jobs didn't stop there. The Sass & Bide catwalk was fitted with Windsor velour carpet as well as the seating area and Maison Triumph created an exhibition space within 71 Monmouth Street in Covent Garden and CTN Exhibitions Salsa velour carpet was fitted for the unique event.
The company even managed to fit in a last-minute job for the Science Museum in London, taking a call late on Friday, 15th February for velour carpet to be cut and fitted for an event in the evening at the museum on Monday, 18th February. "We will always do what we can to help clients out and on this occasion the warehouse manager came in on the weekend to prepare the carpet and arrange the delivery," stated Rob Forey, Business Development Manager. He also said, "Our fitting team have done a marvellous job fitting the carpet at all the London Fashion Week events. They were quick, efficient and professional and we look forward to doing lots more projects like this in the future."
The company are busy preparing for the upcoming wedding and parties season, visiting lots of marquee companies and preparing new sample cards that will be available early next week. To request a sample card, call 01952 680423.
To find out more, please visit the brand new website http://www.ctn-uk.com.
CTN Exhibitions Ltd is a financially stable company with an innovative, forward thinking approach to developing products and services for their clients. A large product portfolio that contains marquee carpet, event flooring and decorative wall coverings for exhibitions.
CTN Exhibitions Ltd acquired One Up Display Service in November 2010 so as to develop the wall coverings and decorative product offering further, as well as to provide a southern location for storing stock.