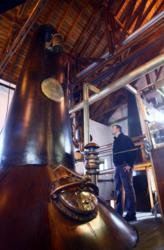 "We have been careful not to subject this old lady to too much stress" - says Bruichladdich Distillery Manager Allan Logan
Bruichladdich Distillery is located on the Hebridean island of Islay (PRWEB UK) 27 February 2013
Bruichladdich Distillery on the Scottish Inner Hebridean island of Islay has increased production of single malt whisky to one and a half million litres per annum to meet expected future demand. The increase has not involved any significant changes to equipment, much of which dates back to when the distillery was built in 1881. The distillery is designed to produce this volume of spirit.
Prior to the move in 2013, production levels had built up to around 750,000 litres p.a. since the Victorian distillery was re-opened in 2001 by a private consortium. This had only represented around half of its potential. Although its production practices are antiquated and very slow by the standards of modern industrial distilleries the company has always remained committed to the traditional artisanal approach. Distillery Manager Allan Logan says: "We have been careful not to subject this old lady to too much stress. She works rather slowly and we are determined not to change that – so we have politely asked her to work longer hours. So far she has responded very well and we are now running (jogging?) continuously round the clock five and a half days a week. We all need a wee break at the weekend."
The company, which also bottles all of its range at the distillery, has a workforce of more than fifty people, making it the largest private sector employer on Islay.
The previously independent Bruichladdich was purchased by the French premium spirits company Remy Cointreau in 2012. The new ownership has given the maverick Islay distillery the opportunity to work towards fulfilling the burgeoning demand for its increasingly esoteric range of single malt Scotch whiskies. The company also produces The Botanist an artisanal gin distilled using 22 Islay botanicals collected from the hills, fields and moors around the island.