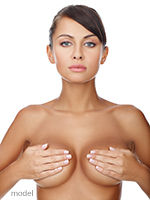 Los Angeles, California (PRWEB) February 25, 2013
According to a January 30, 2013 Marie Claire article, fat and stem cell breast augmentation is one of the latest breakthroughs in cosmetic surgery. Already popular in Asia and Europe, fat and stem cell breast augmentation is on the rise with A-list celebrities in the U.S. (Go to: goo.gl/9SMRO)
Dr. Simon Ourian, Medical Director of Epione Beverly Hills, believes that this development can be a positive sign for the cosmetic surgery industry. He says, "With further testing, this procedure has the potential to prove itself as a lower risk, yet effective breast augmentation option."
A fat and stem cell breast augmentation uses the individual's own fat as implant material. Liposuction is performed to harvest the fat and stem cells that are then injected into the breasts. Sometimes the fat is processed first to increase the concentration of stem cells.
There are several benefits to this cutting-edge process. The injected fat and stem cells are natural, as opposed to a saline or silicone implant, the injections leave no scarring, and the augmented breasts still look and feel like regular breasts. The downsides include the cost, typically higher than silicone or saline implants, and the increase in breast enhancement is limited to about one cup size.
Although fat-injection augmentation is a hot trend, improvements in traditional implants might be the real story in 2013. Today's implants are moving towards custom-shaped and custom-fitted accessories. The upcoming IDEAL implant is composed of multiple, smaller saline implants that are pieced together. IDEAL implants have been described as more natural, texturally and visually, than traditional saline implants.
"Technology aside," says Dr. Ourian, "the most interesting trend in breast augmentation is the move by most women away from 'bigger is better' to a smaller, more natural looking augmentation."
Dr. Ourian has been a pioneer in laser technology and non-invasive aesthetic procedures including Restylane, Juvéderm, Radiesse and Sculptra. These treatments are used for the correction or reversal of a variety of conditions such as acne, acne scars, skin discoloration, wrinkles, stretch marks, varicose veins, cellulite, and others. More information about breast augmentation options can be found at Epione's website.