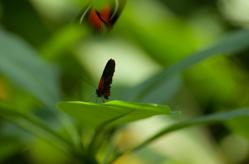 "At first glance, it's easy to become lost in the quantity and color of the butterflies," said Steve LaWarre, director of horticulture. "But once you stop to watch them individually, you'll begin to notice all kinds of different flight patterns."
Grand Rapids, MI (PRWEB) February 25, 2013
February 25, 2013 — Frederik Meijer Gardens & Sculpture Park's 18th annual "Butterflies Are Blooming" exhibition will bring more than 6,000 tropical butterflies to West Michigan. Arriving from Africa, Asia, South and Central America, over 40 colorful species will fly freely in the five-story Lena Meijer Tropical Conservatory. A visitor favorite, this popular exhibition opens March 1 and runs through April 30.
These alluring visitors include the bright orange Julia Longwing, the Common Morpho with blue iridescent wings, and the Emerald Swallowtail. This year's exhibition highlights the flight patterns of each of these butterflies. The way they fly may seem random and chaotic, but each species displays distinct flight patterns that aid in selecting mates, locating food and avoiding predators.
"At first glance, it's easy to become lost in the quantity and color of the butterflies," said Steve LaWarre, director of horticulture. "But once you stop to watch them individually, you'll begin to notice all kinds of different flight patterns and will have a greater appreciation for their diversity."
Swallowtails are known for their strength and speed in flight with wings that span two inches or more. Male butterflies of this genus use air currents for "hill-topping," spiraling upward to the top of a hill to attract females. Longwings use slow and direct flight to keep them in small areas while foraging for nectar. The genus Morpho use their large wings for catching and gliding on air currents. Generally, they display bouncy, erratic flight patterns, but shift to a quick zigzag pattern when dodging predators.
More than 800 pupae arrive at Meijer Gardens weekly. Visitors can watch as delicate chrysalides and cocoons are placed in the Butterfly Bungalow, where adult butterflies emerge and spread their wings for the first time.
The Caterpillar Room, located within The Seasonal Display Greenhouse, features Monarch caterpillars. Visitors can watch as the caterpillars voraciously feed on milkweed plants. After two weeks of tremendous growth, the caterpillars will look for a suitable place to form their chrysalides. Butterflies will open their wings for the first time two weeks later.
This much-loved exhibition attracts more than 150,000 visitors from all over the nation each year.
Exhibition Activities

Saturdays, March 2 and 16, 10 a.m.
Fee: $3.50 members/$5 non-members; Free for ages 2 years and younger
Choreographed by Attila Mosolygo, performed by members of the Grand Rapids Ballet Junior Company and narrated by Errol Shewman
Developed in collaboration with Grand Rapids Ballet, this unique performance highlights characteristics of butterflies through dance. Who Am I? is a charming story about a butterfly emerging from its chrysalis and wondering what kind of a creature it is. It encounters several other creatures, each one having something in common with a butterfly. Through process of elimination, the butterfly comes to understand what it is and its place in the natural world. With costumes, music, audience interaction, activities before the performance starts and a question and answer period with the dancers afterward, it promises to be a thoroughly fun and enlightening experience. Register online at MeijerGardens.org or call 616-975-3147. An American Sign Language interpreter will be provided for the March 16 performance.
Bring your flashlights on Tuesday nights until 9 p.m. to see the nightlife in the Tropical Conservatory.
Hands-on activities during daytime hours:
o Discover the lifecycle of butterflies with egg, caterpillar, chrysalis and butterfly costumes
o Read butterfly stories in the book corner and create your own puppet show
o Pretend you are a butterfly and flutter through the butterfly maze
o Learn and sing spring songs in a variety of languages
The exhibition is made possible by DTE Energy Foundation, The Meijer Foundation, Botanic and Sculpture Societies of Frederik Meijer Gardens & Sculpture Park. This year's media sponsors are Channel 95.7 FM and 100.5 FM The River.
# # #
Images available upon request. View thumbnails here: http://www.meijergardens.org/media/scms/IMAGES_BAB2013.pdf
About Frederik Meijer Gardens & Sculpture Park
One of the world's most significant botanic and sculpture experiences, Frederik Meijer Gardens & Sculpture Park serves more than 550,000 visitors annually. Meijer Gardens was recently ranked in the top 100 most–visited art museums worldwide by "Art Newspaper," the leading publication in global art news. The 132–acre grounds feature Michigan's largest tropical conservatory; one of the largest children's gardens in the country; arid and Victorian gardens with bronze sculptures by Degas and Rodin; a carnivorous plant house; outdoor gardens; and a 1900–seat outdoor amphitheater, featuring an eclectic mix of world-renowned musicians every summer. The internationally acclaimed Sculpture Park features a permanent collection including works by Rodin, Moore, Bourgeois and Plensa, among others. Indoor galleries host changing sculpture exhibitions with recent exhibitions by Picasso, Degas, di Suvero, Borofsky, Calder and Dine.