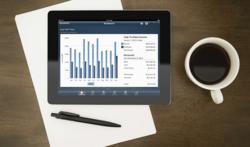 For the small business owner who's anxious about tax time, we're here to help.
Vancouver, BC (PRWEB) February 25, 2013
Kashoo, the leading "anytime, anywhere" accounting software platform for small business, is running a flash sale to help entrepreneurs tackle tax time: download the Kashoo iPad app between now and Friday, March 1, 2013 and the first month of service is $4.99, via in-app purchase. That's about the cost of this morning's latte and 75 percent off the normal monthly rate. Download the app at http://itunes.com/apps/kashooaccounting.
"For the small business owner who's anxious about tax time, we're here to help," said Kashoo CEO Jim Secord. "For $4.99 you can actually get your 2012 financials organized. You can download your bank statements, categorize your expenses, reconcile your income and produce beautiful, accurate financial statements that you can share with your accountant, who will undoubtedly love you for saving them hours of sorting through receipts and statements."
After downloading the Kashoo iPad app and setting up a Kashoo account, customers taking advantage of this flash sale can continue to use Kashoo for 2013. There is a free plan for small businesses that record less than 20 transactions per month or, for growing businesses conducting more than 20 transactions per month, there is a low cost paid plan which includes unlimited transactions, multiple users, and many other helpful features.
Small business owners sweating tax time are encouraged to take advantage of this flash sale not only to get 2012 financials organized, but to take control of 2013's. Kashoo also offers access to the entire platform (including access via kashoo.com) so business owners can access their data anytime, anywhere; free "tips and tricks" weekly webinars; and rapid-response support. Ultimately, Kashoo gives small business owners and entrepreneurs everything they need to get their business finances in order—anytime, anywhere.
About Kashoo
Used in over 180 countries by over 60,000 small business owners, startups, entrepreneurs, freelancers, bookkeepers and accountants, Kashoo is "anytime, anywhere" accounting software—on the web and on the App Store's most downloaded accounting iPad app. PC Magazine calls the Kashoo iPad app "the best iPad app we've seen for online small business accounting." The app was also named a 2012 Top 50 Business iPad App by iBusiness Magazine and a "Top New Product of 2013" by AccountingToday. Get started at http://kashoo.com or download the iPad app.