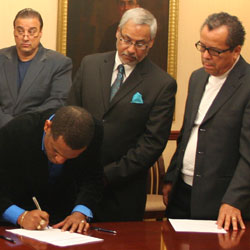 At United, we are continually looking for new ways to bring theological education to underserved, growing populations.
Dayton, Ohio (PRWEB) February 28, 2013
Dr. Wendy Deichmann, President of United Theological Seminary (United), announced today that the Dayton-based seminary recently admitted its first class of students to the Hispanic Christian Academy (HCA), a new lay ministry school within United's Center for Hispanic Ministry, offering ministry certification in Spanish.
"According to census figures, the Hispanic population in the United States has grown by 43 percent in the last decade, and it now accounts for approximately one out of six Americans," President Deichmann said. "At United, we are continually looking for new ways to bring theological education to under-served, growing populations."
HCA, under the leadership of Dr. Peter Bellini, Director of Non-Degree Programs, offers a basic theological course of study in Spanish for Hispanic laity and clergy. The courses are offered in an online format, which allows students to attend class wherever there is Internet access while remaining in their own location to practice ministry. United's online courses provide the same quality of education as traditional face-to-face courses.
United launched the new Academy in partnership with Global Empowerment Ministries (GEM), a Kentucky-based Hispanic ministry organization led by United alumnus Dr. Iosmar Alvarez. GEM will provide resources for the new program by making student referrals, assisting with fundraising and translating course materials.
"The whole idea behind the program is to multiply leaders to expand the Kingdom of God," said Dr. Alvarez. "We want to train lay leaders to expand the Kingdom by planting churches that make disciples, and then more disciples who will plant more churches!"
HCA's goal is to impact the local church through equipping and training leaders to serve as local pastors, associate pastors, church planters, evangelists, missioners and other roles of ministry.
"The work in Kentucky is just a first step," said Dr. Bellini. "We plan to establish partnerships with four other campuses by the end of the year to offer the Academy nationally."
"This programs typifies United's forward-looking and faithful response to a changing world and changing needs," said President Deichmann.
For more information, contact Dr. Peter Bellini, Director of Non-Degree Programs, at pbellini(at)united(dot)edu or 937-529-2201 or Laura Weber, School for Discipleship and Renewal Coordinator, at lweber(at)united(dot)edu.
United Theological Seminary recruits and educates dynamic, Spirit-led leaders who will renew the church for the mission of Jesus Christ in the world. We are committed to teaching the Bible and the historic Christian faith, instilling a passion for personal and social holiness and renewing the Church for its ministry and mission.