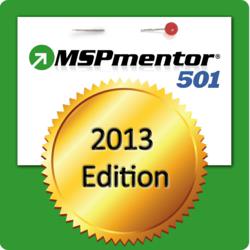 We look forward to continued growth in 2013, through new partnerships and expanded services, as the healthcare IT market continues to transform and enrich the healthcare industry —John O'Keefe, CEO of ITelagen
Jersey City, NJ (PRWEB) February 26, 2013
ITelagen has landed at #80 on Nine Lives Media's sixth-annual MSPmentor 501 Global Edition (http://www.mspmentor.net/top501), a distinguished list and report identifying the world's top managed service providers (MSPs).
"We are proud to have been named #80 to the MSPmentor Top 100 Global List," said John O'Keefe, CEO of ITelagen. "Our expertise is in supporting physicians as they begin to adopt a new electronic health record (EHR) system. We look forward to continued growth in 2013, through new partnerships and expanded services, as the healthcare IT market continues to transform and enrich the healthcare industry."
The MSPmentor Top 100 honor defines ITelagen as a leading managed services provider in the healthcare IT industry. ITelagen has experienced nonstop growth since 2006 and maintains a foundation of more than 200 clientele across the nation, composed of businesses in healthcare, financial services and other sectors. ITelagen has also been recognized by Inc. 5000 for becoming one of America's Fastest-Growing Private Companies.
The MSPmentor 501 report is based on data from MSPmentor's global online survey conducted October-December 2012. The MSPmentor 501 report recognizes top managed service providers based on a range of metrics, including annual managed services revenue growth, revenue per employee, managed services offered and customer devices managed.
"MSPmentor congratulates ITelagen on this honor," said Amy Katz, president of Nine Lives Media, a division of Penton Media. "Qualifying for our MSPmentor 501 Global Edition puts ITelagen in rare company."
MSPs on this year's global 501 list lifted their combined annual recurring revenues 24.5 percent to $2.54 billion. Together, those MSPs now manage more than 5.6 million PCs and servers, and nearly 400,000 smartphones and tablets, according to Joe Panettieri, editorial director, Nine Lives Media.
ITelagen increased revenues by 48.1% from 2011 to 2012, manages 4,500 PCs, 380 servers and 1,800 network devices. 90% of ITelagen clients are in the healthcare industry; an industry which has become ever-dependent on technology for the maintenance, security and accessibility of patient data. Server hosting is offered through ITelagen's EHR Cloud – designed to prevent problems before they occur - providing application security and performance 24x7.
"Managing servers (due to dependency on technology) has become a primary strategic function within medical practices," says Robert Spadaro, VP of Technology for ITelagen. "Our service eliminates risk before it happens and we can offer an entire package of services from hosting an IT environment to managing and securing data to implementing and supporting the application – which all allows a physician to focus on patient care."
About ITelagen
ITelagen® redefines Healthcare IT for medical practices by providing EHR as part of an entire back-office solution that includes unlimited onsite & remote technical support for all of your staff and secure hosting of your patient data. We are more than just desktop technicians, but a complete technology team made up of CIO's, engineers, and healthcare EHR experts. With ITelagen, you can have all the benefits of your very own fully-staffed IT Department, without the expense of an in-house staff. By combining IT, hosting and certified EHR experts, ITelagen becomes the single point of contact and "One-Stop Shop for EHR" for IT and EHR infrastructure, all for a flat monthly subscription fee. For more information, visit ITelagen on the Web at http://www.itelagen.com. Follow ITelagen on Twitter at https://twitter.com/ITELAGEN, Facebook at http://on.fb.me/11qagVJ, or LinkedIn at http://linkd.in/YU4N8f.
Contact:
Emile Ondrus
ITelagen, Inc.
201-239-8405
press(at)itelagen(dot)com
About Nine Lives Media
Nine Lives Media, a division of Penton Media (penton.com), defines emerging IT media markets and disrupts established IT media markets. The company's IT channel-centric online communities include MSPmentor (MSPmentor.net), The VAR Guy (TheVARguy.com) and Talkin' Cloud (TalkinCloud.com).
Contact:
Nine Lives Media, a division of Penton Media
Joe Panettieri, Editorial Director
212-204-4206 or joe.panettieri(at)penton(dot)com