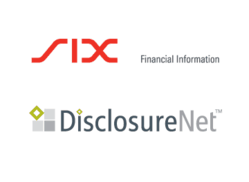 To meet our expanding global content needs, we chose to source data from SIX Financial Information because it met our non-negotiable standards for quality and scope.
New York, San Francisco, Toronto (PRWEB) February 27, 2013
SIX Financial Information and DisclosureNet, the public disclosure research solution provider, today announced their strategic cooperation. The first stage will support the growth of DisclosureNet's searchable content with international company-level reference data from SIX. Later stages will focus on the addition of instrument data and corporate actions.
DisclosureNet provides law firms, accounting firms, investment firms and all manner of public companies with an unmatched wealth of searchable information for corporate intelligence, financial reporting, disclosure and compliance and corporate disclosure research. The service gives researchers, analysts and compliance professionals searchable access to more than 20 million disclosure documents along with a suite of tools to effectively mine data, even from documents stored as images.
In response to customer demand, the company has expanded its coverage to include Canada, the US, UK and Australia. While seeking third-party content to accelerate this expansion, DisclosureNet discovered that SIX Financial Information had the right combination of depth and breadth of content that it needed, along with a global footprint that was an attractive partnership benefit as DisclosureNet grows.
"To meet our expanding global content needs, we chose to source data from SIX Financial Information because it met our non-negotiable standards for quality and scope", said Stephane Jasmin, President and CEO of DisclosureNet. "The fact that SIX Financial Information's data is completely structured is an added bonus because it facilitates our unique approach to ensuring searchability."
Barry Raskin, Managing Director of SIX Financial Information USA, said, "We are pleased to be able to support DisclosureNet in this exciting period of the company's growth, and we look forward to working even more closely with the team as they add even greater breadth and depth of data." He continued, "Because DisclosureNet is using data from our Valordata Feed (VDF), instrument-level data and corporate actions can easily be added down the road, as all the data is structured and presented in a consistent format that makes integrating additional data sets very straightforward."
Contact:
SIX Financial Information
Head Marketing Communications
Amira Abdel Aziz
T +41 58 399 5154
Amira.AbdelAziz(at)six-group(dot)com
DisclosureNet
Director, Solutions & Marketing
Toan Dinh
T +1 866.974.3638 x 115
tdinh(at)disclosurenet(dot)com
About SIX Financial Information
SIX Financial Information is a leading global provider of first-rate data services and solutions for financial and insurance firms, corporations and the media. SIX Financial Information aggregates data, directly and in real-time, from over 1,500 worldwide sources, covering all the major trading venues. Its financial information comprises reference data, corporate actions, pricing and market data for over 10 million instruments and is unique in terms of information depth, breadth and structure. Financial news and customized solutions complement the offering. With 24 international offices SIX Financial Information combines the advantages of local presence with global reach to offer a comprehensive data portfolio along with industry knowledge for professionals specialized in investment advisory, portfolio management, financial analysis and securities administration.
SIX Financial Information is part of SIX. On a global scale, SIX offers first-rate services in the areas of securities trading, clearing and settlement, as well as financial market information and payment transactions.
Further information is available at: http://www.six-financial-information.com
About DisclosureNet™
DisclosureNet™ is an online solution that helps business professionals unlock intelligence in global corporate disclosure filings. Founded in 2002, DisclosureNet™ uses innovative technology to make it easy to find, store, and share global public disclosure information, while providing a secure platform for knowledge collaboration.
To learn more about DisclosureNet™, please visit http://www.DisclosureNet.com.
™ DisclosureNet is a trademark of DisclosureNet Inc.