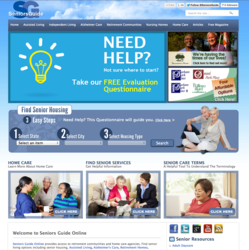 Every option of senior care is covered thoroughly.
Richmond, VA (PRWEB) February 26, 2013
Seniors Guide Magazine has long been the go-to source for information about senior housing and care in Central Virginia, Southwest Virginia, Indianapolis, Dayton, Cincinnati, and Raleigh-Durham. And now, the magazine's new website will bring all of that information online with increased usability.
"Often, when people are looking for senior housing or care, they are already dealing with so many other things," says Katharine Ross, director of publishing for Seniors Guide. "The last thing they should have to worry about is a confusing website, so we made this site as easy-to-use and straightforward as possible. But even though the presentation is simple, there is an abundance of information. Every option of senior care is covered thoroughly."
In order to make the process simpler and more efficient, Seniors Guide Magazine equipped the new website with a function that's as easy as 1, 2, 3. No, really! It takes just three steps to find the housing option users are looking for. First, a pull-down menus allows users to select the state where hey need housing. The next pull-down menu narrows it farther by offering options of cities. And finally, the third pull-down menu allows users to select the level of care they need.
Speaking of care levels, they are all featured heavily at SeniorsGuideOnline.com. The website offers information on active adult homes, senior apartments, independent living, assisted living, continuing care, respite care, Alzheimer's care, nursing care, rehabilitation care and home care. And if a user isn't sure which level they need, there are detailed descriptions and helpful articles to guide them along in the process. There are even checklists to use when selecting the right company to go with.
And the updates to Seniors Guide Online are not only to add usability. There are also steps forward in Search Engine Optimization that will put advertisers in a more favorable position on the Web. There is also a new, clean design that gives the site a new life, beyond its functionality.
"When we decided to launch a new website, we knew we wanted it to be not only efficient, but also aesthetically pleasing. So, along with every decision about function, there were also considerations about design."
And for those users who already know exactly what they're looking for, there's an improved search function to skip right ahead to the community or care provider they are looking for.
As Ross says, "This site is really going to take the user experience to the next level, for the customer and the advertiser."
Seniors Guide, a Richmond, Va. -based company publishes Seniors Guide magazines throughout Cincinnati, Ohio; Dayton, Ohio; Indianapolis, Indiana; Raleigh-Durham, North Carolina; Richmond, Virginia; and Roanoke-Lynchburg, Virginia and features a correlating website of http://www.SeniorsGuideOnline.com. Seniors Guide's mission is to help seniors and their families find the information they need on options available in senior housing, senior care, assisted living, independent senior living, retirement communities and other retirement living needs. Seniors Guide also has resources at http://www.HomeCareChoice.com for Cincinnati, Ohio; Dayton, Ohio; Raleigh-Durham, North Carolina; and Richmond, VA. Ross Publishing, Seniors Guide's parent company, began in 1991 and has been publishing helpful, free publications and websites ever since.