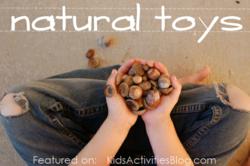 Make a Wonder Jar or a Sensory Bin and bring nature inside to let the kids explore anytime the nature around them.
Dallas, Texas (PRWEB) February 27, 2013
Get the kids outside to teach them essential life skills. Kids Activities Blog released inspiring nature education tips for kids and a gallery of fun nature activities that turn into memorable family outings.
Nature is such an important part of childhood. Unfortunately, kids free playing outside is on the decline. The following are tips to incorporate nature into the daily schedule. Anytime the child is outside, provide a small container for the child to collect items found in nature. Items such as nuts, acorns, twigs, rocks, etc. can be played with later inside. Acorns or rocks can be studied on the internet together with the child to learn about its composition and where it came from.
Keep the collection within the reach of the child so he or she can choose to study or play with them throughout the day. Keeping the collection in sight is one of the ingenious tips. One can also transform the collection into a new indoor game by making a Wonder Jar, a Sensory Bin, a nature table, a sensory tray, a nature wrist band, and a nature collage. The list is endless.
Nature activities that bring the family closer together include going on a nature scavenger hunt, collecting items from nature to create a family center piece for the dinner table, or simply taking a drive to the local rural area to enjoy the beautiful scenery and don't forget to pack a picnic lunch while you are already outside in nature.
For detailed instructions and to get additional ideas on how to connect kids to the world around them, check out Kids Activities Blog. Come get inspired to get the kids learning outdoors again.
About Kids Activities Blog
Kids Activities Blog is a website created by two moms (who collectively have nine children), Rachel Miller and Holly Homer from June Cleaver Nirvana. It is their daily goal to inspire parents and teachers to play with kids. This interactive website publishes simple things to do with kids twice a day. Kids Activities Blog is a great tool for moms and teachers to find kid-friendly activities that create memories and sneak learning into the fun.