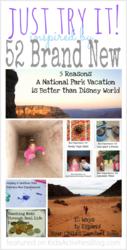 Let the kids discover the wonders of the world by visiting a National Park this year.
Dallas, Texas (PRWEB) February 28, 2013
New experiences can not only be fun but encourage kids, and parents, to get out of their comfort zones. Encouraging kids to try something new is easier when the whole family is involved according to Moms blogging on Kids Activities Blog.
Some of the new experiences that can turn into memorable family outings are touching a tarantula, standing in the shadow of a saguaro cactus, taking a family yoga class, taking apart a printer, participating in the Great American Backyard Campout with a wagon load of dolls, hosting a family lemonade stand, and going to an indoor trampoline arena.
Another gallery of tips for new experiences is listed by several topics on Kids Activities Blog. The gallery includes a list of 10 ways to expand a cautious child's comfort zone, a list of 5 reasons why a National Park vacation is better than a trip to Disney World, 10 experiences in the kitchen for children, teaching math through real life experiences and many more.
For a complete list of instructions and to get additional ideas, check out Kids Activities Blog this week. Come get the kids inspired to discover the wonders of the world.
About Kids Activities Blog
Kids Activities Blog is a website created by two moms (who collectively have 9 children), Rachel Miller and Holly Homer from June Cleaver Nirvana. It is their daily goal to inspire parents and teachers to play with kids. This interactive website publishes simple things to do with kids twice a day. Kids Activities Blog is a great tool for moms and teachers to find kid-friendly activities that create memories and sneak learning into the fun.