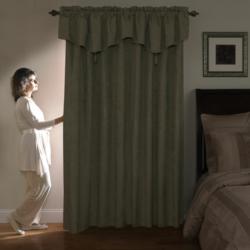 New York, NY (PRWEB) February 28, 2013
National Sleep Awareness Week, March 3-10, is the National Sleep Foundation's annual week-long campaign to celebrate the health benefits of sleep. Sound Asleep Curtains, the official curtains of the National Sleep Foundation, are among the many products that Ellery Homestyles manufactures that promote sleep health.
Developed to address the National Sleep Foundation's recommendations, Sound Asleep's room-darkening technology reduces penetrating light and noise. Americans say that they experience a sleep problem almost every night including waking in the night, waking up too early, or not feeling refreshed when they get up in the morning. However, research shows that sleeping in a dark room can help manage sleep cycles, elevate mood, and increase energy.
To celebrate National Sleep Awareness Week, Ellery will be hosting the ZZZs Please Sweepstakes on the Sound Asleep Curtain Facebook page beginning March 1st, and will be offering these beneficial curtains to three lucky winners.
For more information please visit Ellery Homestyles.