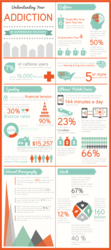 Newport Beach, California (PRWEB) February 25, 2013
Morningside Recovery - a rehab treatment facility located in Newport Beach, California - has recently created and released to the public an addiction infographic that tackles five often touchy issues that are subtly destroying relationships across the country.
Issues like compulsive lying and uncontrolled drinking are obvious triggers for a failed relationship, but there are many other not-so obvious addictions that are just as bad.
Among them is a rather common issue that is beginning to appear on a lot of similar lists: an addiction to internet pornography. While pornography is accepted in some households—and even used as a stimulant for a couple's' sex life, it can cause major relationship damage when it gets out of hand. Because the internet has made it so accessible, many people begin to prefer the instant gratification and fantasy it provides rather than an actual intimate relationship with their partner.
"The scariest thing about the addictions we're highlighting," says a Morningside spokesperson, "is that the majority of people don't realize it's an addictive behavior. And that's the crux of the problem."
Morningside goes on to point out work addictions and an unhealthy fixation with iPhones or other mobile devices as a danger to otherwise healthy relationships. Essentially, any item that becomes an object of escape or takes time away from a spouse can become an unhealthy deterrent from the relationship.
It should be pointed out the mobile devices can act as a conduit of sorts for most of the other issues Morningside has pointed out. For example, most smart phones or similar mobile devices allow the user easy access to internet pornography, work e-mail accounts, and even spending—another addictive behavior Morningside brings to light in their graphic.
Because finances are often a huge topic of tension in many households, people with addictive spending behaviors can become a threat to the relationship. Unfortunately, much like the work addiction, most spending addicts don't understand that they have a problem until it is too late.
Wrapping up their infographic is an issue that will hit many people hard. Just as many people grow dependent on alcohol or nicotine as a way to ease stress, caffeine is also becoming something of an issue in many households. This is a quiet addiction because it isn't seen to do any real physical harm (aside from teeth discoloration and minor stomach ailments).
The fact of the matter is that once you become dependent on caffeine, going without it can cause headaches and mood swings. This, of course, can lead to unnecessary arguments and points of tension in a household.
The infographic reveals a bit more information on each of these often quiet and unexamined addictions.
If you have questions about these or any other unexplored addictive behaviors, contact Morningside Recovery at (949) 675-0006.